This article shares the formula that helps extremely picky eaters try new foods and explains why you even need a formula to help your child eat better in the first place.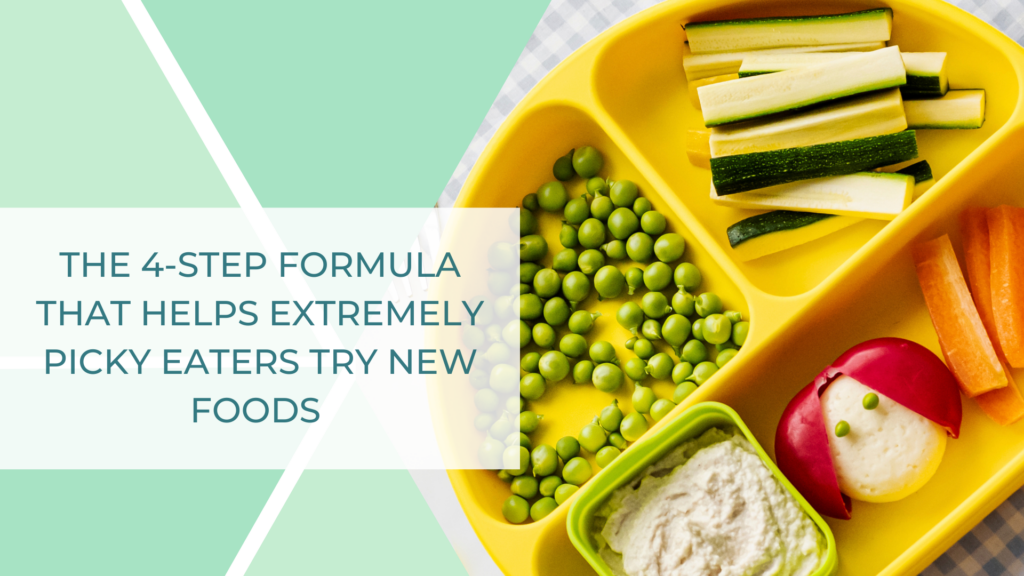 You don't even need to head to Google to know that there is no shortage of must-try solutions to improve picky eating on the Internet (yes, I know I'm guilty of adding to that abundance as I write this). 
You don't need me to tell you that more isn't always better.
You can read every single tip and trick – you can try them all, too. And still, you might end up exactly where you are now, no worse for having tried, but also no better.
Why Is Nothing Helping Your Picky Eater Try New Foods 
When the tips that you find online don't work for you, it's not always because they don't work or because they're bad tips. 
The tips are fine! They might actually work. 
But they might not work for your child (the one with a very limited diet who struggles to try new foods). And they might not work in isolation… 
Helping your child try new foods, expand their diet, and eat more variety isn't a simple one-and-done thing. It can take time and it can take more than just a single tip, tactic, or approach.
Why You Need More Than Just "Tips and Tricks"
After having worked with hundreds of extremely picky eaters ages two to 22 and their families, I've developed a foolproof formula for helping extremely picky eaters try new foods. 
Why a whole formula? Because one single thing isn't going to transform your child's eating. 
You don't need one magic tip. You need a complete solution. 
There is SO much that impacts what a child does – and doesn't – eat. And you need to consider all of the factors in order to help your child eat better.  
Think of your child's eating like a puzzle. You need all of the pieces and you need them in the right places to successfully complete the puzzle. 
That's what a formula gives you. Let me give a sneak peak into the formula that I use in the Eating with Ease Program so you can begin piecing together the solution to help your child try new foods and eat more variety.

The 4-Step Formula That Helps Extremely Picky Eaters Try New Foods 
Foundation
First things, first right? 
Many families in the Eating with Ease Program are surprised that we're not starting with new food introduction ASAP. After all, it's what everyone joins the program for!
But here's the thing: you can't introduce new foods on top of a broken foundation. You need to set the stage, make sure things are in the right places. Remember our puzzle metaphor? What if you tried to put your puzzle together on top of a jagged rock or a table that was too small? It wouldn't work. It's the same with your child's eating.
Another way to think about this? It's doing the puzzle edges first. It gives you structure and direction and keeps everything together. 
In the Eating with Ease Program, the foundation includes: 
Your role as the caregiver and meal provider

The right mindset for supporting your extremely picky eater

How to meet your child where they're at with their eating to minimize pressure and optimize success

Mealtime hygiene – everything that needs to happen to make mealtimes a supportive, comfortable place where your child wants to be, including
 New Food Introduction 
This is what you're here for! 
In this section we work on: 
How to pick the best new foods for your child 

How to best introduce new foods 

How often to introduce new foods 
The best portion sizes for new foods
Encouraging Tasting 
Now that you have a plan for introducing new foods, you want your child to actually taste them!! This is a hefty step of the formula and it includes: 
Strategies to boost your child's comfort and confidence with new foods

How to encourage hands-on food interactions 

Tons of ways you can nudge your child closer eating without adding pressure
Fine Tuning
Finally! Everything is in its place and your child is getting comfortable with new foods. This section addresses all of the bumps in the road that come up with working on helping your picky eater try new foods. All of those "what to do when….." situations. 
In this section of the framework, we also take things to the next level and talk about tackling more challenging eating hurdles like mixed dishes. 
In this section parents learn how to: 
Transform tastes to new food additions 

Overcome preferred food rejection 

Stay motivated 

Handle responses like "I don't like it"

Respond when their child refuses to eat
If you're ready to finally get every piece of the puzzle and learn a complete solution for helping your extremely picky eater try new foods and add more variety, book a call with me and learn more more about the Eating with Ease Program.