This article will explain and discuss the benefits of family-style meals for picky eaters.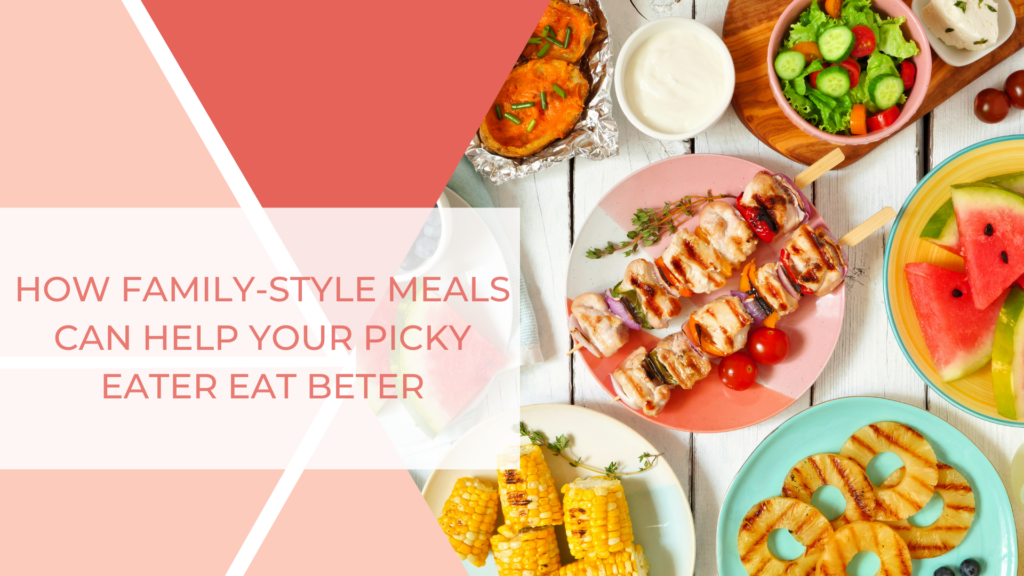 Mealtimes with a picky eater can be complicated. There's often tension between what the child wants to eat or is comfortable eating and what the parent would like them to eat or what they are serving the rest of the family. 
One way to remove the stress and strain from meals is to follow the Division of Responsibility, (DOR), a framework developed by feeding expert Ellyn Satter, which states the parent should decide the what, when and where of meals, while the child determines how much they eat and whether they eat what is provided.
This "parents provide, kids decide" approach is one that I recommend to many families in my coaching programs, not only as a means to more pleasant mealtimes, but also as a way to foster a positive mealtime environment and minimize pressure around eating, which is known to help picky eaters try new foods.
Once parents begin taking a look at the mealtime environment, the question of how to serve meals to best foster an eating environment that supports their picky eater inevitably arises. 
Serving meals family-style is a natural extension of the DOR and I love it most not for giving children more autonomy in their eating, but for empowering children at the table and giving them incidental but influential exposures to foods they might otherwise avoid or never meet. 
Read on to learn more about family-style meals and see if they are a good approach to mealtimes for your family.

Family-Style Meals for Picky Eaters
What Are Family-Style Meals?
In family-style meals, individual dishes are placed on the table so everyone can serve themselves, choosing how much of each item they want on their plate. This approach can help everyone feel empowered at meal time and involved at mealtime  have an opportunity to serve themselves the amount of food they want. 
Unlike pre-plated meals, children can engage with all the foods on the menu, determine portion sizes that feel right to them, and have the freedom to go back for seconds.
Benefits of Family-Style Meals
This approach can help picky eaters feel more comfortable and in control at meal times. Allowing children to serve themselves removes pressure to eat certain foods and uncomfortable feelings around new foods on their plate.
Family-style meals also provide children with organic, no-pressure exposures to non-preferred foods that the rest of the family is enjoying. When a child is serving a new food or even just passing the dish, they are having a meaningful interaction and getting a taste of the food's sensory characteristics. These passive exposures can be influential in helping hesitant eaters feel more comfortable with novel foods and, over time, contribute to an interest in eating.
Another important benefit of family-style meals for picky eaters is that they can dissolve the division between "adult food" and "kid food" or the family food and a picky eater's food. By serving all foods together, there are no distinctions. Instead, every dish is – at least symbolically – meant for everyone and everyone has an equal opportunity to serve and taste dishes. 
There are several other benefits to family-style meals, including:
Opportunities to finetune motor skills

Increased independence and self-esteem

Increased opportunities to interact with food 

A trusting relationship between parent and child

Opportunities to honor hunger and fullness cues

Practice gauging portion sizes 

Learning to share with others
Drawbacks to Family Style Meals 
While there are many benefits to serving meals family-style, this method of eating isn't for everyone. Family-style meals might create more dishes and require more space than pre-plated meals. 
Especially if done with younger children, family-style serving has the potential to create more mess and clean up and can feel more hectic. If you're worried about mess, pasta dishes, casseroles, one-pot meals, sheet pan meals, and stir-fries require fewer dishes. 
If you are interested in family-style meals, don't let these barriers hold you back. Families I've worked with in the past who didn't have enough room to lay out all dishes have done modified family-style by plating together in the kitchen before moving to the dining table. There are ways to be creative without losing the benefits of family-style serving. 
When Can I Start Serving My Child Family Style?
Family style meals can be initiated around toddler age. While your child might need extra support passing platters and bowls, they can still practice scooping. 
You can also ease into family-style serving by asking children if they want a serving and, if yes, how much they would like.
Family-Style Meals Aren't For Me – What Else Can I Do?
If family-style simply doesn't work for your family, you can still create a comfortable and low pressure eating environment that supports your picky eater. When using a pre-plated meal approach, ensure that you do not pressure your child to eat or try any foods. Serve every member of the family the same food and consider asking your children how big of a portion they'd like on their plate.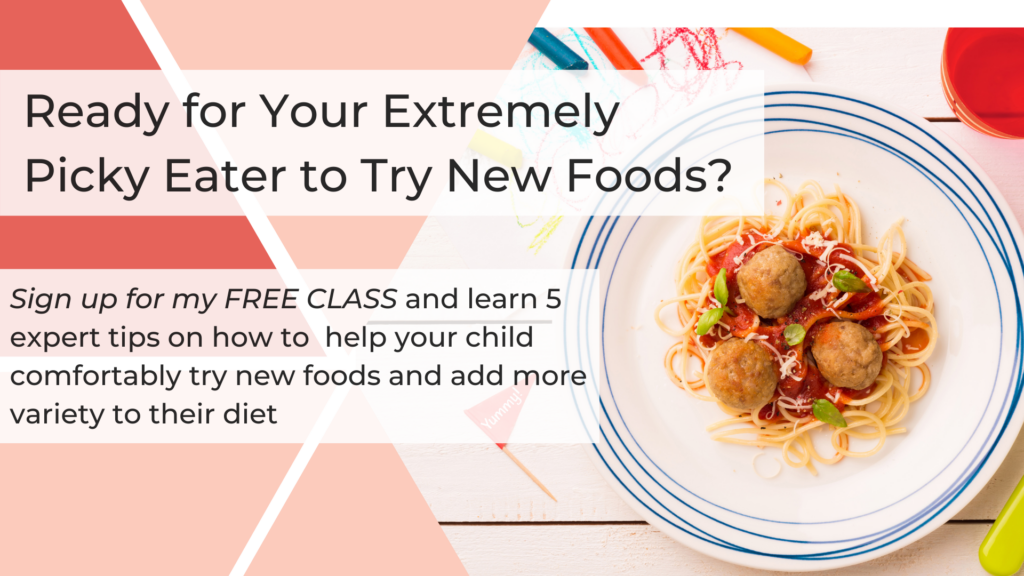 __
Sources:
https://www.ncbi.nlm.nih.gov/pmc/articles/PMC3419662/ 
https://www.tandfonline.com/doi/abs/10.1080/02568549709594719 https://academic.oup.com/ajcn/article/96/1/36/4571448?papetoc 
https://www.mainenephrology.com/-/media/Lets-Go/Files/Childrens-Program/Tools/Using-Family-Style-Meals.pdf