Updated September 2022 
This article shares the best chairs for picky eaters – and all kids.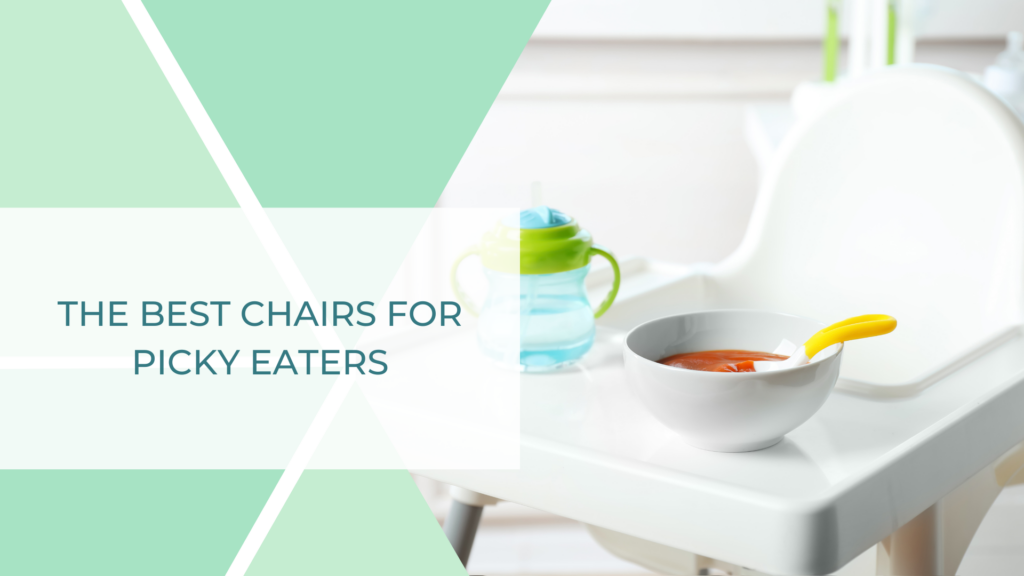 Picture this: you just sat down for a meal with your child, only for them to be squirming constantly, jumping out of their seat, or having a hard time focusing on their food. Sound familiar? 
Surprisingly, this might be a seating issue, not an eating issue. 
Kids have a hard time eating when they're working hard to keep their bodies stable at the table. When they're not 100% comfortable, they're more likely to squirm, end the meal early, and eat less. 
So before getting into the weeds of what your child is (or isn't…) eating, look at the where and how of mealtimes, starting with their seat at the table. 
Once your child is comfortable, you can both focus on the food. 
Here's what to look for when choosing a mealtime chair for your child.

The Best Chairs for Picky Eaters: What To Look For
Support at their backs and bottoms
Starting from day one in the high chair, you want to make sure your child is sitting with their back at a 90° angle to their hips. Think about how you sit in a chair versus a stool with no back support and you'll get the idea. One is much more supportive, and probably comfortable, too. 
Holding the body upright is a lot of work – even when you're a little person with a little body. Sitting with support means your child doesn't have to focus on the hard work of keeping their body erect, which means they can eat more safely and also sit for longer before getting tired or antsy.
Support at their feet and ankles
Imagine sitting on a stool again. What do you do when you have nowhere to rest your feet? Your feet dangle, you swing them around, and you have a hard time sitting still. 
One of the most important ways to help your child sit restfully at mealtime and keep their focus on eating is a supportive foot rest. Their ankles should be at a 90° angle as if they were standing flat on the floor.
Support at their knees
Just like the hips and feet, your child should be able to bend their knees at – you guessed it! –  a 90° angle. 
Adjustable height
Any chair you choose should allow the table to come up to just around the middle of their torso. With their elbows free to move above the table, this height makes it easier for your child to bring food to their mouth. They'll also be able to see all the food on the table more easily.
The Best Chairs for Picky Eaters, from High Chairs to Big Kids Chairs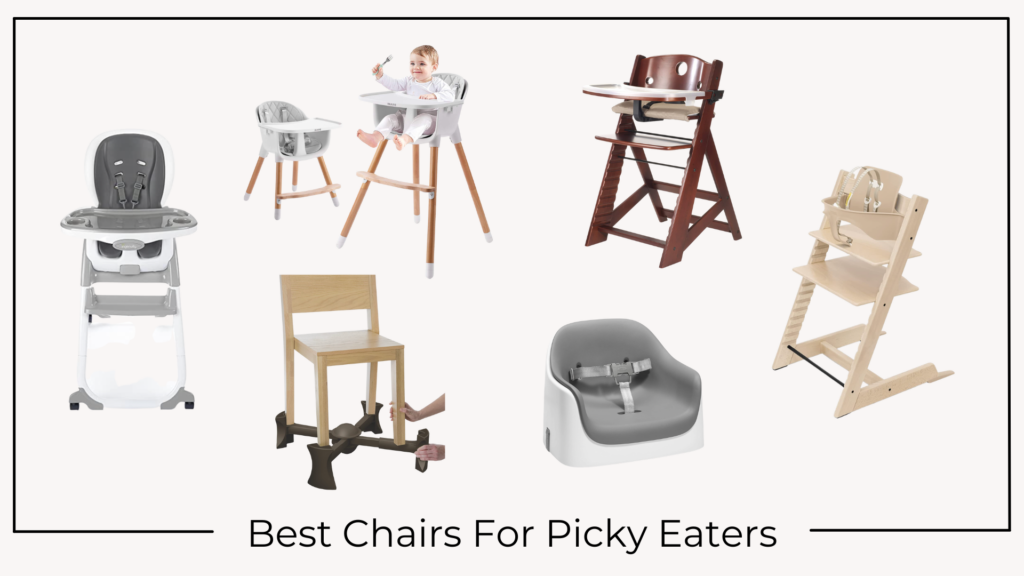 Here is our roundup of the most supportive and functional chairs for picky eaters – dietitian approved!
Adjustable from Baby to Toddler
Ingenuity SmartClean Trio Elite 3-in-1 Convertible Baby High Chair, Toddler Chair, and Dining Booster Seat
This is a great option for infants to toddlers and kids up to 5 years of age. It can be used as a high chair, a toddler chair, and a booster seat, and the tray is adjustable no matter what stage your child is at. 
An added bonus is that it can seat two kiddos at once – one in the booster seat and another in the toddler chair. We also love that it has wheels so you can move it around easily!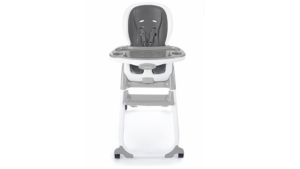 Ikare Wooden Natural Baby High Chair
Few chairs are adjustable in height, but this one fits the bill, which makes it great for including your little one at the dinner table. The footrest is adjustable, too, so you can change the height as your child grows. 
It also converts into a toddler chair and kids chair, so you'll be sure to get your money's worth.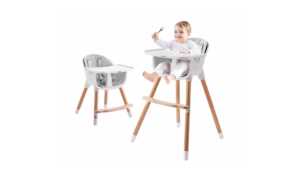 Adjustable from Baby to Big Kid
With two options – a highchair for infants or a tray-free big kid's only version – we love that this chair can really grow with your child, no matter how old they are now. 
The footrest and seat plate are adjustable on both versions, major wins in our book. As your child grows, the chair can grow with them.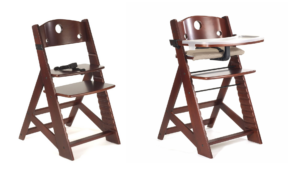 While the Tripp Trapp is more of a financial investment, it's our personal top choice. 
With a 5-point safety harness (compared to the 3-point harness of most other chairs), and adjustable everything, the high chair to big kid to adult chair will take you far.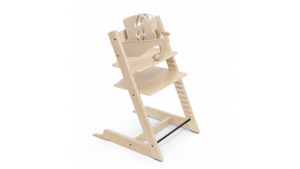 Want to tweak your child's current chair?
If you're not in the market for a new chair, but are realizing your child's chair is lacking in certain supportive areas, don't worry. 
Here there are a few ways you can optimize your current set up to best support your child's eating. 
Boost their height
If your table is coming up higher than the bottom of your child's breastbone, consider placing a folded towel or pillow under their bottom to raise their height.

You can also purchase booster legs for your existing chair. Try

this one

. 

Or, you can try a booster cushion with adjustable straps like

this one

(it's also portable, which we love for visits to restaurants or other houses).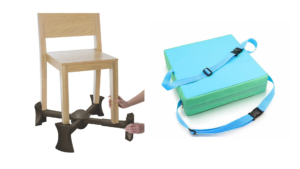 Prop their feet
If your toddler's feet are dangling, a step stool, cardboard box, or other flat, stable object under their feet should do the trick. 

If your child is in a high chair, try wrapping an elastic band (an

exercise band

will do the trick) at the legs of their chair at a height that allows their knees to bend at a right angle. 

Consider purchasing an add-on footrest to attach to your current highchair, such as

this one

from Yeah Baby Goods.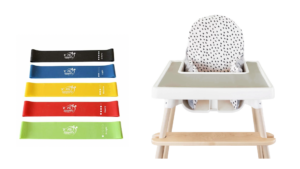 Support their back
Similar to the trick for propping up your children's bottom, you can use a towel or pillow behind your child's back to ensure they have the right amount of trunk support. 

If your child is in need of a boost

and

additional back support, try a booster seat like

this one

that has a support for their lower back.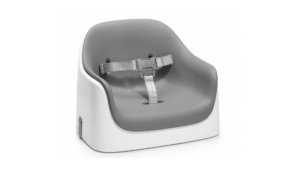 Putting it all together
One key to success at mealtime is making sure your child is sitting comfortably, and for that, they need a chair that supports their backs and bottoms, allows them to bend their knees, has a place to rest their feet, and is at a comfortable height for your table.