This article will discuss how to make mealtimes more comfortable and easier for picky eaters, so they have a better time at the table and become more likely to try new foods.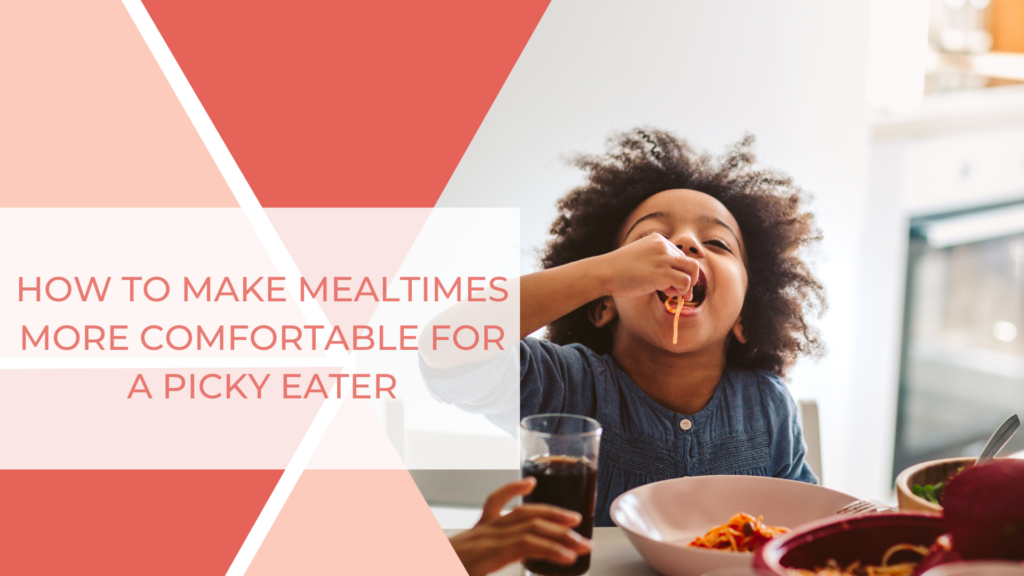 Meals can be hard for extremely picky eaters. Fears of being around new foods, sensitivity to smells, and inherent pressure to eat can all lead to mealtime anxiety. This not only makes for an uncomfortable experience; anxiety actually decreases the appetite which can make eating – and especially trying new foods – even harder.
To help your extremely picky eater have a better relationship with food and enjoy eating more, aim to foster a positive and comfortable environment at the table to decrease their anxiety and increase readiness to eat. 
Read on for our top 5 ways to make mealtimes more comfortable for a picky eater.

5 Ways to Make Mealtimes More Comfortable For a Picky Eater
Create consistency 
Staying consistent with meal timing, routines, and expectations can improve your child's appetite and behavior. 
The mealtime transition is a simple and effective way to bring routine into your mealtimes and help your child feel more prepared to eat and sit at the table. You can consider using a timer that counts down to meal time or create a transition ritual that involves hand washing or playing a favorite song. 
There's no right or wrong way to go about this. The goal is to set your child up for success and find a strategy that works for your family.
Let them know what's on the menu
For many extremely picky eaters, sitting down to a meal of surprises does not feel comfortable or safe. If your child does better with more information, you can let them know what is on the menu ahead of time.
How far in advance to do this will depend on your child. For some kids, knowing as early as the morning can help take the anxiety and anticipation out of mealtime. For others, you may need to wait until after school or later in the evening so that they don't spend the day worrying or negotiating how to change it.
If it works for your family, you may even consider posting a weekly meal plan in a common area for kids to see. This can fit into your mealtime routine, as it gets rid of the guesswork day-to-day, and your child will know what to expect week-to-week.
Invite their input
Ellyn Satter's division of responsibilities provides a framework for parent and child roles during mealtime. Parents are in charge of what food is put on the table, while the child decides how much to eat. 
This balance of boundaries and autonomy is key for building a positive relationship with food. However, giving your child a voice when it comes to meal planning and prep can help boost their excitement and investment in meals, leading to positive experiences and an increased interest in eating. 
Offer your child two choices that you know are within your repertoire, and ask which one they would like to help prepare. For example, the dialogue could go as follows:
"Tonight we're going to be making broccoli and rice, but I'm not sure which protein to pick. Do you think we should make fish or chicken?" 
This approach allows you to maintain control and set expectations around what food is being prepared, while offering a platform for your child to have an active role in mealtime prep.
Give them a job 
Giving your child a job during mealtime can help them feel valuable.
You can make the activity unrelated to the food. Maybe it is helping to set the table or filling up water cups. Provide them with a job that is small enough where they will feel accomplished, but big enough that it helps them feel important.
Or, if your child likes to be involved with food, you can assign them a simple cooking task. 
Shift the focus 
Make mealtimes a place to bond and have fun. Take the focus off of eating and instead, find ways to connect. Mealtime can serve as a great platform to get face-to-face time with your child, even if only for 5 minutes. 
So use this time to create enjoyable memories and bring in fun, removing any conversation around eating, and with it, the pressure around food. 
When the focus shifts from whether or not they're trying that veggie to enjoying time together, they can actually feel more inclined to give it a taste!
Is mealtime a constant struggle for both you AND your picky eater? If you're tired of relying on blog posts and other tips you find online, let's talk. My program might be the solution you need.