This article shares the best picky eating tips from 2022.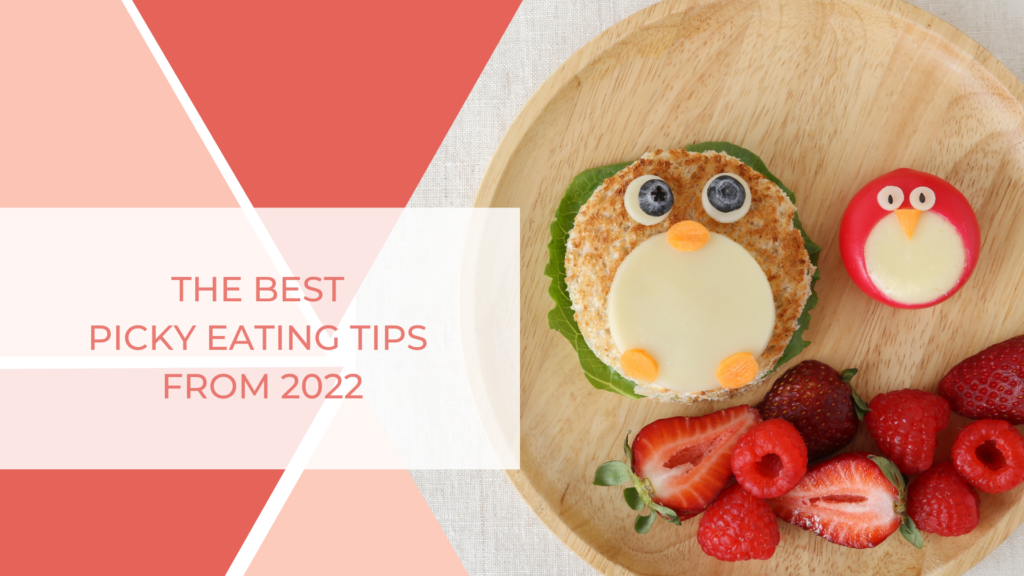 Thank you so much for reading along this year!
Below you'll find your favorite blog posts from 2022 with the best picky eating tips to help your child comfortably try new foods. 
Leave a comment below with anything you'd like to see in 2023.
The Best Picky Eating Tips From 2022
The 4-Step Formula That Helps Extremely Picky Eaters Try New Foods This article gives you a sneak peak into the formula that I use in the Eating with Ease Program so you can begin piecing together the solution to help your child try new foods and eat more variety.
10 Expert Tips to Improve Extreme Picky Eating How do you help an extremely picky eater try new foods? Hint – there's no ONE answer or single thing you need to be doing. Instead, there are a number of things (simple things, but still a number of things) that should be in place and happening simultaneously to help a child who struggles to try new foods and eat a varied diet. In this article I shared my 10 expert tips to improve picky eating. These are the ones I use every single day when helping the 100+ families in my Eating with Ease Program. Plus, they are backed by research, experience, and real successes from real parents of extremely picky eaters.
6 Ways to Help Picky Eaters Take Medicine There's a reason why Mary Poppins suggested a spoonful of sugar to help get the medicine to go down. Taking medicine isn't fun. It can be especially hard for extremely picky eaters who are naturally hesitant to eat unfamiliar things. If your child has sensory sensitivities, medicine can be even more difficult – creamy liquids, hard pills, chalky dissolvable tablets can all exacerbate sensory difficulties. This blog post discusses why taking medicine can be so hard for picky eaters and shares 6 ways to help picky eaters take medicine.
Everything You Ever Need To Know About Snacks and Your Picky Eater Knowing how to handle the endless requests for snacks from your picky eater can be challenging. In this article I discuss how to handle (and even capitalize) on your child's snack requests.
5 Simple Ways to Improve Toddler Picky Eating (plus answers to your big questions) Your baby grew up "eating anything!"…and all of the sudden when they turned two, they turned into a discerning toddler who prefers french fries and applesauce to anything with a more vibrant flavor or appearance. Why is this happening and how can you get back that baby who used to eat peas and avocado by the handful, but now hasn't touched a vegetable in a week! This article answers all your questions about toddler picky eating and shares tips on how you can improve your toddler's eating today.
The 8 Products That A Picky Eating Expert Recommends to Every Client While there's no magic bullet, foolproof remedy or single need-to-try-it strategy, there are plenty of tips and tricks and little helpers that can make the process of helping your child try new foods easier (and more fun, too).