How do you help an extremely picky eater try new foods?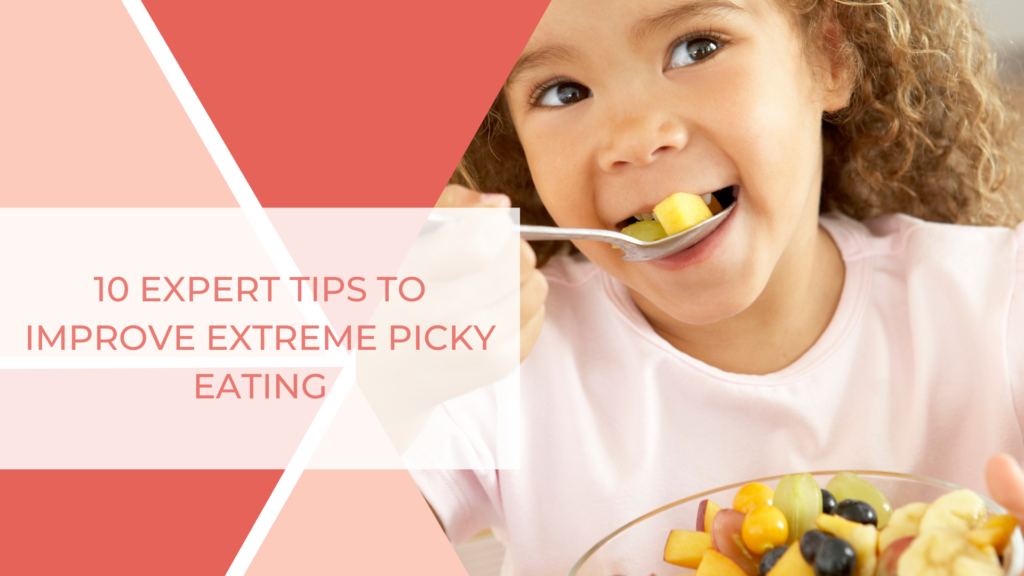 Hint – there's no ONE answer or single thing you need to be doing. 
Instead, there are a number of things (simple things, but still a number of things) that should be in place and happening simultaneously to help a child who struggles to try new foods and eat a varied diet.
I put together these 10 expert tips for you because they really work! 
These are the ones I use every single day when helping the 100+ families in my Eating with Ease Program. Plus, they are backed by research, experience, and real successes from real parents of extremely picky eaters.
I know these expert tips can get your child on the path to trying new foods, eating more variety, and eating with more ease and comfort. I also know sometimes you need more than a list of tips to make the kind of progress you're ready to see with your child's eating .
If you're looking for more support to help your child try new foods and eat more variety, sign up for my free virtual class.

10 Expert Tips to Improve Extreme Picky Eating
No pressure, requirements etc 
You can't mention the topic of picky eating without hearing how you shouldn't require your child to eat a certain food or a certain number of bites. 
We've all resorted to the "c'mooons" and "you'd like it if you just tried it!" And yet. We're still here stressing and searching for solutions. 
Pressuring extremely picky eaters to eat doesn't work and can even backfire.
So let's try something new….
Make meals a place your child wants to be 
Ideally, meal times should be light-hearted and enjoyable. When your child is relaxed, eating is easier, more interesting, and potentially even pleasurable.
But how can you foster casual, low-pressure, fun meals when you're stressed about your child's eating?
Here are a few things that can help you out:  
Optimize eating windows 
You want to make sure your child is coming to meal and snack times hungry. So say goodbye to eating on demand and all day grazing. You want to respect eating and hunger windows when your child can fuel their body and then have time for their appetite to grow.
 Keep them in the loop 
Often, picky eaters like knowing what to expect when it comes to food, meals, and eating. Keep expectations and plans clear and keep your child in the loop about what mealtime will be like.
Get hands on 
Children learn by touching, seeing, smelling, and interacting with new foods. The more a child explores a food, the more likely they are to taste it. 
Need some ideas?
Fun Fall Food Activities For Picky Eaters
15 Easy and Creative Ways for Picky Eaters to Play With Food
Fun and Easy Activities For Picky Eaters
Don't trust "I don't like it"
After working with over a hundred kids and their families, I've found that a declaration of "I don't like it" is often a knee-jerk reaction that doesn't always mean what we think it means. 
Keep serving foods even if your child "doesn't like" them.
Make a change 
I know, I know. I said kids like knowing what to expect. But sometimes, changing things up can be just what your child needs to try something new. Maybe it's eating in a new location (try a picnic on the floor or local park). Maybe it's coming to the table in costume. Maybe it's having breakfast for dinner or eating off of a cool new plate. 
These aren't "forever" changes, just something fun to get you and them out of a mealtime funk. 
Play around with portion size

 
Smaller is often better when serving new foods, but sometimes a BIG portion (like a full bell pepper or half a watermelon) can be so fun and enticing for your child. 
 Involve your child in mealtimes 
Give your child a special role or even just a say in something about mealtimes.  The more involved your child feels, the more likely they will want to participate and find enjoyment in the mealtime (both of which lead to eating). 
Keep serving new foods!! 
Your child needs to meet new foods in order to eat new foods. Once – and sometimes 10 times – isn't enough. 
Keep at it!! The second you stop is the second it never has a chance of happening.
BONUS!!! 
Get support when you're not feeling good about your child's eating
If you need to go even more in-depth, join my free picky eating class where you'll learn the 5 keys you need to help even the most picky eater try new foods and eat more variety. 
You'll get step-by-step things you can do to improve mealtime today. Sign up here.