This article shares five ways that exposure to new foods are important for picky eaters.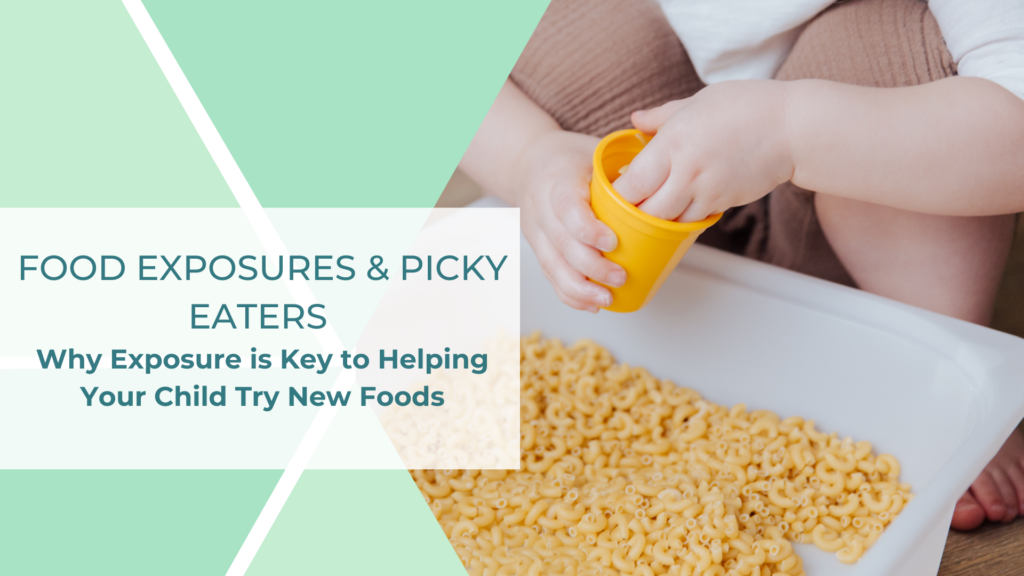 Helping your extreme picky eater try new foods and eat more variety can be daunting and frustrating. After refusal upon refusal, it can feel easier to give up and give in to your child's limited preferences.
It doesn't have to be this way.
All those times when you've offered your child a new food and they've ignored it, declared the dreaded "I don't like it" or had a complete meltdown have not been a waste of your time and energy (not to mention all that food!). 
These new food introductions count as exposures. And exposures are key to helping your child build the comfort and confidence that is required to first try a new food and eventually come to like it.
Read on for what new food exposures are and why they're so important for picky eaters. 

What Is a New Food Exposure for Picky Eaters
An "exposure" is simply an introduction. I think of it as "meeting" a new food. That's it. 
It can be as simple as seeing the food on their plate, passing it down the dinner table or picking it up at the grocery store.
Notice how an exposure is different from tasting. If your child is ready to taste, by all means encourage them! But most children need about a dozen exposures to a new food before they are ready to taste. 
Exposures are so important and helpful because they allow your child to touch, see, and smell before eating, which can minimize their resistance to taking a bite. 
How to Offer New Food Exposures to Your Extremely Picky Eater
Here are a few ways you can expose your extreme picky eater to foods without asking them to take a bite:
Get them in the kitchen
Cooking together, whether it's making dinner or simply toasting a piece of bread, is a meaningful new food exposure. 
In addition to providing the opportunity for new food exposures, cooking often leads to eating. There's loads of research to suggest that kids who cook are kids who taste, and eventually eat. 
If you're not sure your hesitant eater is ready to dive into full-on cooking, start small. Allow them to dump pre-measured ingredients into a bowl, mix ingredients with a wooden spoon or count the number of pasta noodles to be cooked. As long as they're hands-on and having fun, you're doing it right.
Need more ideas? We've got you covered: 
5 Ways to Get Picky Eaters Excited About Cooking
Fun Cooking Activities for Kids and Picky Eaters
Encourage sensory play
Most of the extremely picky eaters I know have some sort of sensory component to their struggles – whether it's a history of sensory defensiveness (like not wanting to get messy) or just preferring certain textures. 
Sensory play, with or without food, can help your child become more comfortable with different textures, temperatures, and consistencies of food, which makes eating easier and increases the chances that they'll eat new foods. Of course, when food is used in sensory play, this counts as a new food exposure. 
Don't let the name "sensory play" trip you up. Just think of this as having fun with food.
This sort of activity can look however you want: fill a bin with cooked noodles and let your child explore. Build towers out of blueberries. Use a melon baller to scoop cantaloupe. You can find even more ideas here and here.
Remember, this time isn't about your child trying the food, but working on their exposure and building their comfort with new things.
Eat together 
Whether it's breakfast, lunch, dinner, snack time or weekends only, try to make this happen. The time of day doesn't matter. What matters is that your child is able to have a positive, comfortable mealtime experience that includes exposure to new foods (i.e. the ones you're eating). 
If you are a busy family and it feels impossible to get everyone together, don't stress. Eating together "as a family" can be as simple as having your child eat with just one primary caregiver who is also eating. 
Remember, this doesn't have to be every meal or even every day (it most likely won't be!) The important thing is that your child sees one of their caregivers eating with them.
Bonus: If you eat family-style, ask your child to pass the plate of nonpreferred food to you for an extra new food exposure opportunity. 
Eat nonpreferred foods in front of your child
Exposure comes in many forms, and just seeing you eat foods that they don't eat is a simple yet valuable one.
Hot tip: this happens naturally when you're eating together. We're all about killing two birds with one stone! 
Serve new foods in tiny portions 
When introducing new foods, smaller is better. Instead of starting with a whole portion, place a serving no bigger than a penny on your child's plate (starting smaller is okay too).
If the proximity of the food is too much, institute a separate "learning plate" that your child can use to place new foods. This can make the situation less stressful and help your child feel in control. 
Remember, it's important to continue to always serve at least one preferred food at mealtime. 
Looking for more?
The number of ways you can expose your child to foods are limitless. Each child is different and you might find that certain things work better than others for your family. 
If you're looking for more ideas on how to tackle your child's extreme picky eating, check out my book, Stories of Extreme Picky Eating. 
And, if you're looking for more support, we'd love to be there for you. Through our Eating with Ease program, you can hear from parents who are going through similar struggles and experts who are there to help.