Today we're sharing 10 fun and easy gardening ideas for picky eaters. Gardening is a fun and low pressure activity that can improve picky eating. Children who grow food in a garden are more likely to eat fruits and vegetables. Plus, gardening can increase confidence and comfort around food, which can help picky eaters want to try new foods.
Growing food with your picky eater is a creative and effective way to get them engaging with foods they might reject at the dinner table. Try these easy ways to garden with a picky eater.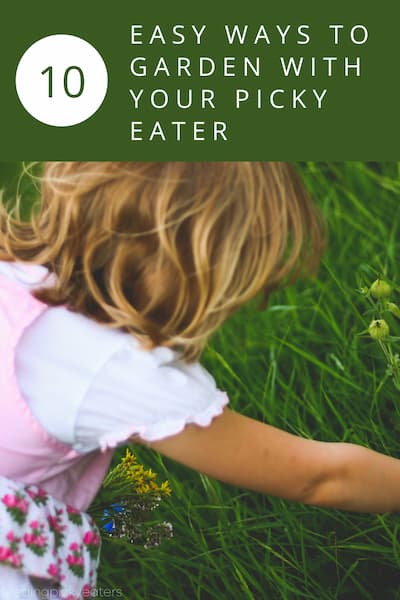 10 Food Garden Ideas to Improve Picky Eating
Save Fruit and Vegetable Seeds
You can grow new plants by saving seeds from fruits and vegetables, such as tomatoes, bell peppers, and strawberries. Start by planting the seeds with a little soil and water indoors in a small container, like a yogurt jar, egg carton, or eggshells. Once the plant sprouts, transfer them outdoors into a container or the ground.
Food Scraps
Save your food scraps to grow new plants. Growing plants from food scraps works well with lettuce, scallions, celery, carrot tops, or bok choy. For more info, check out this article. 
Avocado Tree
You can also sprout your own avocado tree with just seed. All you need is the seed, a glass with water, and some toothpicks. Be patient. It can take a while to grow an entire tree. What avocado recipes can your child help you make once they're ready? Guacamole and avocado smash are fun ways to begin teaching your picky eater the benefits of cooking. 
Pizza Garden
Plant tomatoes, onions, peppers, and herbs like basil and oregano in a garden or pots. Once they grow, use them to make homemade personal pizzas. Your picky eater can decorate their own. 
Sunflowers and Seeds
Sunflowers are simple flowers to grow. They're not only a beautiful addition to your garden, but they can also make a delicious snack! Once the flowers begin to fade,  harvest the seeds and roast them for a tasty snack. 
Up-cycled Planters and Seed Shopping
Gardening doesn't have to require a large investment of your time or money. Reuse old coffee cans, milk cartons, or other containers you have around as planters. Take your child to a garden center or hardware store to select seeds or seedlings. Radishes, lettuce, and carrots grow quickly and easily. Inviting your child to decide which plants they want to grow can increase their curiosity and might motivate them to try the plants once they're grown.
Propagating Sweet Potatoes
This low maintenance growing activity involves just one sweet potato, some toothpicks, a jar, and water. Take a medium sized sweet potato and insert a few toothpicks into the middle. Use the toothpicks to prop a sweet potato in the mouth of a jar. Fill the jar with enough water to cover the bottom half of the sweet potato and wait for growth. Once you see sprouts from the potatoes, you can eventually plant them to grow your own sweet potatoes in dirt.
Lima Beans
Growing lima beans at home is a fun way to learn about the life cycle. First, wet some paper towels or cotton balls and place them in a small plastic bag. Place 4-5 lima or butter beans in the bag against the wet paper. Tightly seal the bag so moisture can gather, then tape the bag to a window with bright sunlight and watch the beans grow in just a few days. See if your child wants to taste the beans once they're fully grown.
Indoor Herb Garden
Indoor herb gardens are easy and low maintenance. Plant herbs by a sunny window and enjoy watching them grow. Your child can help pick the herbs and together you can find recipes for them. They can help make a simple pesto with a mix of herbs like cilantro, basil, and parsley. Try taste testing their creation with preferred and new foods.
Growing Kits
If you don't have a green thumb, try growing kits for mushroom or microgreens. Instructions and supplies are included so all you have to do is plant! 
Recap
Picky eaters often shy away from interacting with novel foods. These gardening ideas for picky eaters create fun opportunities for children to touch, explore, and learn about new foods. Plus, research shows that kids who garden are more likely to eat fruits and vegetables, and picky eaters are more likely to try food that they helped to grow. Getting hands dirty in the garden is also an effective sensory experience, but if your child has sensory aversions, try a pair of gardening gloves to help them feel more comfortable.
Action Plan 
Which gardening idea for picky eaters stands out to you or your child? Involving them in the planning and decision making process can boost their interest and commitment.