This article shares fun fall food activities that can help picky eaters start to feel more comfortable with new foods.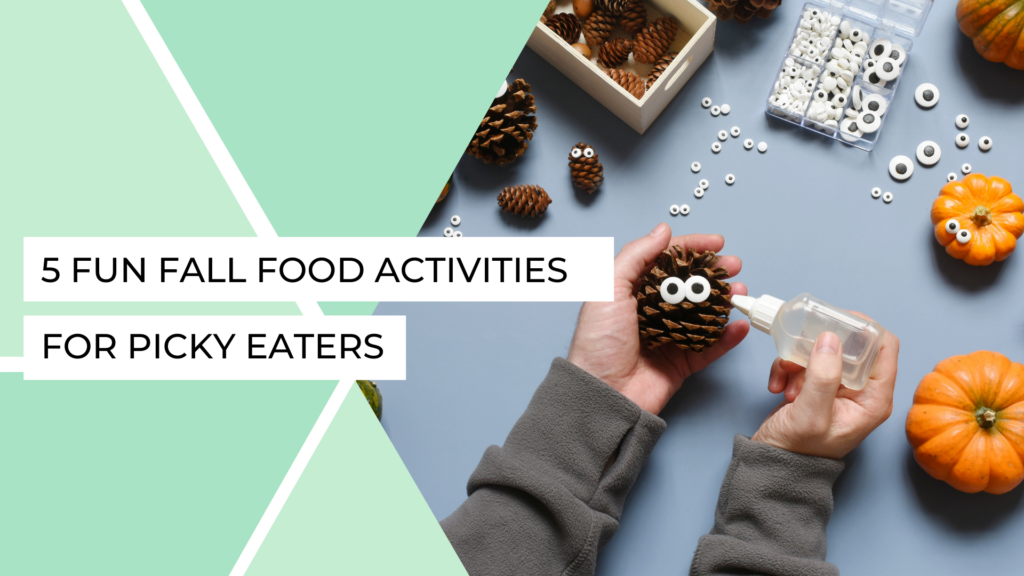 Research shows that positive food interactions and repeated exposures to new foods increases both a child's willingness to eat and the likelihood that they enjoy a new food.
If you're struggling to get your extreme picky eater to try new foods at mealtimes, try playing with and exploring foods outside of mealtimes.
These fun fall food activities are great for any time of year. Adapt as you need. You can invite your child to explore and sample the foods you introduce, but avoid pressuring them to try the foods or even to participate.
The more fun you can make it, the better their experience will be and the more likely they will be to try eventually.
5 Fun Fall Food Activities for Picky Eaters
Roasted Squash Seeds & Flavor Exploration
How to: Scoop squash seeds from the body of a winter squash. Clean them off. Let dry on paper towels or a cutting board if you have time. To roast, toss seeds in oil, salt, and desired spices. Bake for ~15 minutes at 275 degrees or until seeds start to pop and take on color.
Take it to the next level by creating a taste test with different flavors. Create a sweet, spicy, savory, salty, and plain option.
Suggested seasonings: cinnamon, maple, cocoa, honey, soy sauce, chili pepper, everything bagel seasoning, cumin, turmeric, ginger
Need: seeds from a winter squash (ie butternut), knife, large spoon, oil, spices of choice, baking tray
Why this is great: Handling squash seeds is the ultimate sensory experience. They're wet and stringy and goopy. I love the versatility of roasted seeds, too. They couldn't be more simple to make, so they're great for kids, and they are a canvas for all sorts of flavors – perfect for a picky eater who is learning to explore new foods.
Apple Stamps
How to: Cut apples in half. Dip in paint to create stamps. Add a green "leaf" thumbprint atop each apple.
Need: apples, knife, paint in colors of choice, paper
Why this is great: Art projects are low pressure. There's no suggestion of eating, so they're ideal for an extreme picky eater. Still, this activity encourages important interaction and can open a child's interest in tasting. You could pair this activity with a trip to a pick-your-own orchard or some apple recipes at home.

Mashed Potato Sculptures
How to: Mold mashed potatoes (sweet or regular or a combination) into shapes and objects of your choice. Make portraits, a classic volcano, shapes, etc.
You can play a game trying to guess what the artist is shaping as you go. Get creative using hands and whatever tools you have on hand.
Need: mashed potatoes, plate or placemat. desired tools (fork, cookie cutters, stamps, etc)
Why this is great: Again, art projects are an easy entry into hands-on interactions with food. Suggest your child to use their hands by modeling it yourself. You can even lick your fingers and see if they want to participate. Bonus activity: have your child mash the potatoes before playing.
Pumpkin Hummus
How to: Drain the chickpeas. Add all ingredients to a food processor. Puree. Add water until desired consistency is reached. You can also incorporate preferred spices like cumin or cinnamon.
Need: 3/4 c canned pumpkin puree, 2 garlic cloves, 2 T lemon juice, 2 T tahini, 1 15-oz can chickpeas, 1 T olive oil, salt, water, potato masher/fork/food processor/blender
Why this is great: This simple recipe is easy for kids of all ages and because you'll most likely be blending in a machine, it's friendly to kids with aversions to touch or smell. Do taste tests with preferred dippers like baby carrots or crackers or tiny tasting spoons.
Bowling with Brussels Sprouts
How to: Arrange bowling pins on a flat surface. Make sure you have room for an "alley" in front of them. Take turns rolling your Brussels sprout "bowling ball" into the pins to knock them down. To take this to the next level, suggest your child make the perfect round bowling ball by peeling off rogue sprout leaves.
Need: Brussels sprouts, "bowling pins" of your choice
Why this is great: Even the most food averse kids can get behind a game of bowling, which means they'll be getting hands on with a green vegetable!
For more fun food activities that can help your extreme picky eater try new foods, check out Stories of Extreme Picky Eating.
Looking for other ways to get your child hands on with food?
15 Fun Food Play Ideas For Picky Eaters
5 Summer Sensory Food Play Ideas to Help a Picky Eater
5 Fun Spring Sensory Food Play Ideas to Help Picky Eater
Fun Winter Food Activities for Picky Eaters
10 Fun and Easy Ways to Garden with a Picky Eater
30 + Ways Picky Eaters Can Play with Food
Recap
Food play and sensory activities with food can help your picky eater try new foods. When doing these activities aim to keep things fun. Model the activities and participate alongside your child, but avoid pressuring your child to participate or try new foods.
Homework
Aim to complete one fun sensory food activity weekly. Ask your child which they'd like to try first. Make a plan to complete it and get your shopping list ready beforehand if needed.