This article shares five things worth buying to improve your child's picky eating.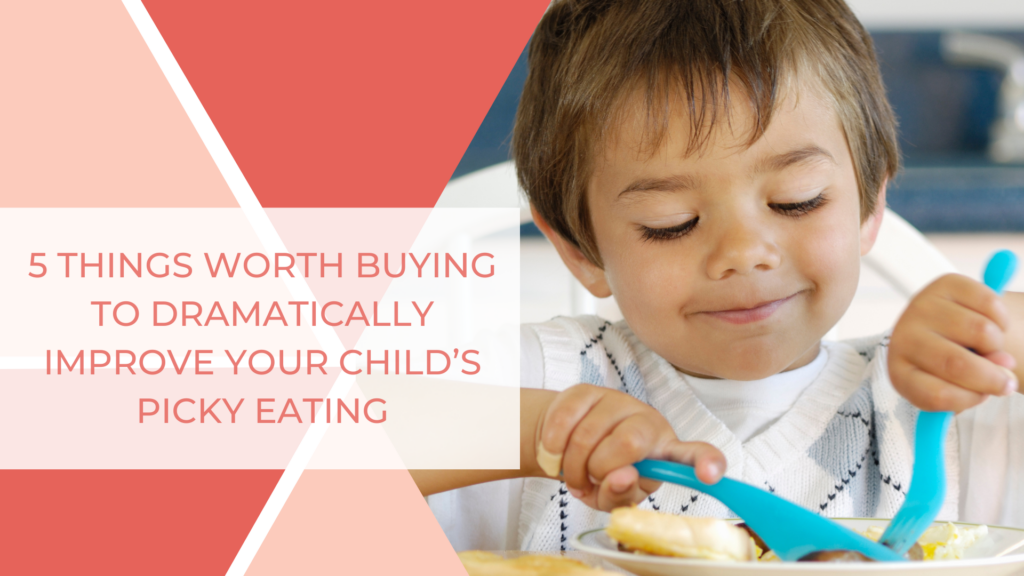 Let's be honest: you wish there was something you could buy that would dramatically improve your child's picky eating. 
Unfortunately, when it comes to picky eating, and especially more severe eating challenges, the solution isn't as simple as one-clicking something to your Amazon checkout. 
But that doesn't mean that tools, products, and gadgets can't help your child's eating. 
There are plenty of things out there that are worth buying to actually help your child's eating get better in a low-stress, enjoyable way.

5 Things Worth Buying to Dramatically Improve Your Child's Picky Eating
Books About Food
Swap out your usual bedtime story for a book that encourages your child to see food in a more accessible and even exciting way. 
Your child can read about characters who conquer their fear of foods or simply experience food in a more accessible way. For older kids, reading about someone going through their experiences can help them feel more understood, boost their confidence, and even increase their openness to trying new foods. 
Plus, discussing food outside of the dinner table can help lower the pressure since there is no expectation to eat.
CLICK HERE for our favorite food books for kids of all ages.
And HERE to find our complete list of food books for kids.
And if you're a reader, don't miss my book, Stories of Extreme Picky Eating, where you'll learn from the pickiest case studies out there and access my whole framework (including a detailed action plan and lots of activity ideas to encourage your child to get hands on with food).
Cookbooks
I'm all about kids getting hands on with food. Why? When kids are engaging with food without the pressure of eating, their boundaries are down and they're more likely to create positive associations. 
Any cookbook or recipe works, but if you're looking for something new, find something that appeals to your child's particular interests and skills. For little kids, I'm partial to cookbooks that foster creative experimentation. 
Here are some of my favorite cookbooks for kids:
Things That Make Food More Fun
Anything that makes food more fun or encourages touching and exploring is a win in our book. 
When I work with kids directly, nothing excites them more than my knife set or cute food cutters. 
Here's a list of our favorite games and toys and a ton of our favorite products that make food more fun.
Food-based games and experiments
Take hands-on food play to the next level with food-based games and experiments. Using food games will create positive associations with foods, and is a sure way to bring in some laughter and joy around food – something every picky eater could use more of. 
Support 
Books, tools, and games are all great. I mean it! They WORK. I use them in my practice daily. But nothing can replace personalized guidance and a solid framework that has worked for hundreds of children. 
If you're done with investing in items and solutions that don't work, I want to share something with you that can. 
My coaching programs help even the pickiest children feel more comfortable eating. 
Book a complimentary discovery call with me so we can explore options that can finally help your child try new foods and eat more variety – once and for all.