Welcome to May's installment of Four Fun Things – a roundup of things I'm using and loving lately. Baby Z is starting solids, and I'm preoccupied by all things feeding kids (I guess what else is new?).
That's all to say: get ready for four fun things related to feeding kids and making both more fun for them and easier for you.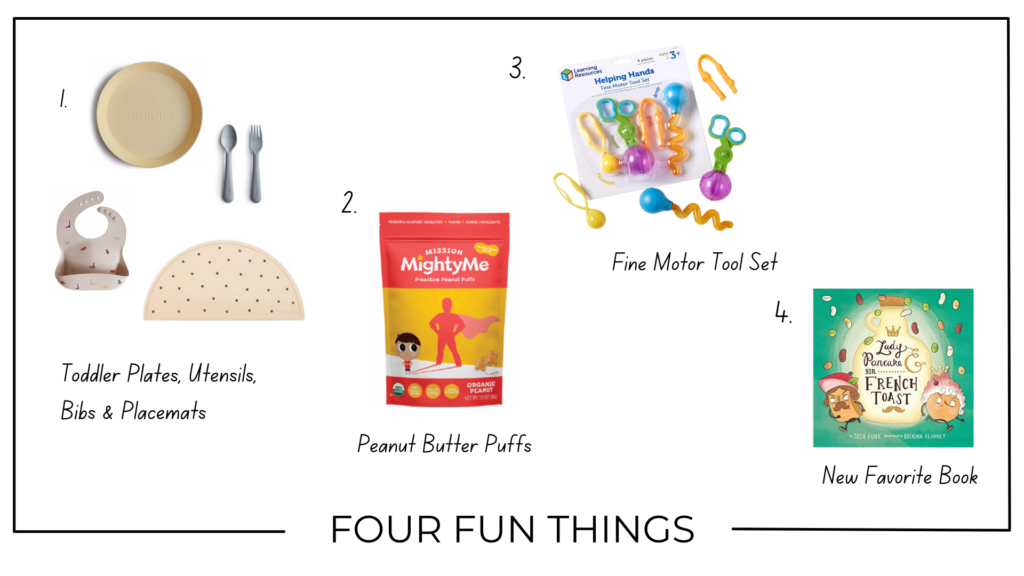 Our New "Big Kid" Plates and Bowls
My older son is 2.5 and all of the sudden so grownup. I don't know if it's because his little brother is now eating solids or because he actually is such a big boy, but the divided suction plates and bowls we swore by no longer seem right. 
The kid eats full slices of pizza; he needs a big plate! So we're upgrading to these plates, bowls and cups. We already have utensils, placemats, and many bibs, too), so I know they hold up well. 
And if, like me, you're also feeding a baby, these spoons are a must.
A New Short-Cut for Feeding Baby (and Preventing Food Allergies)
Speaking of feeding a baby – woah. Like everything with Kiddo Number Two, it's a whole different ball game. I just don't have the time to devote to making his food and it's all much more spontaneous. Which isn't to say it isn't hugely important to me. It is. 
I know the importance of early food experiences, so I'm putting my energy where it matters – the how of feeding him: having the positive experiences and building his skills. And I'm offloading some of the what. 
Mission MightyMe sent me some of their nut-based puffs and I have to admit that I was hesitant at first. I like real food, especially for babies. Puffs are usually all filler, no thriller, but MightyMe Proactive Puffs are not your average peanut puff.
Research shows that starting peanut foods in infancy can help reduce the risk of peanut allergy and because MightyMe puffs are nut-based (with no extra icky ingredients), they work double duty – they're also a nutritious and easy snack (they dissolve quickly for babies and toddlers, and taste great for big kids and their parents).
If you're trying them too, use the code PICKY20 and save 20%
Cool Tools for Toddlers and Little Kids
I found these colorful fine-motor tools and had to have them. I mean, a grabber, tweezer, scooper and dropper all in one?! C'mooon. Too good to be true. 
We debuted them yesterday in a long solo parenting day with a few bowls of ice cubes and they were a big hit. Use them for all your summer fun or introduce them at a mealtime that's feeling stale. 
I promise they won't disappoint. 
Our New Favorite Food Book
A little off topic here, but I just had to share this beautiful and silly book with you: Lady Pancake and Sir French Toast. 
I'm a sucker for any food-themed book for kids and this one is truly a step above the rest. It's a great story. The rhyming is so well done. Illustrations are on point.  It's clever and funny and silly (just about everything I need in a book).