In this article you'll find 13 nut-free bars and snacks that are nutritious and safe for school.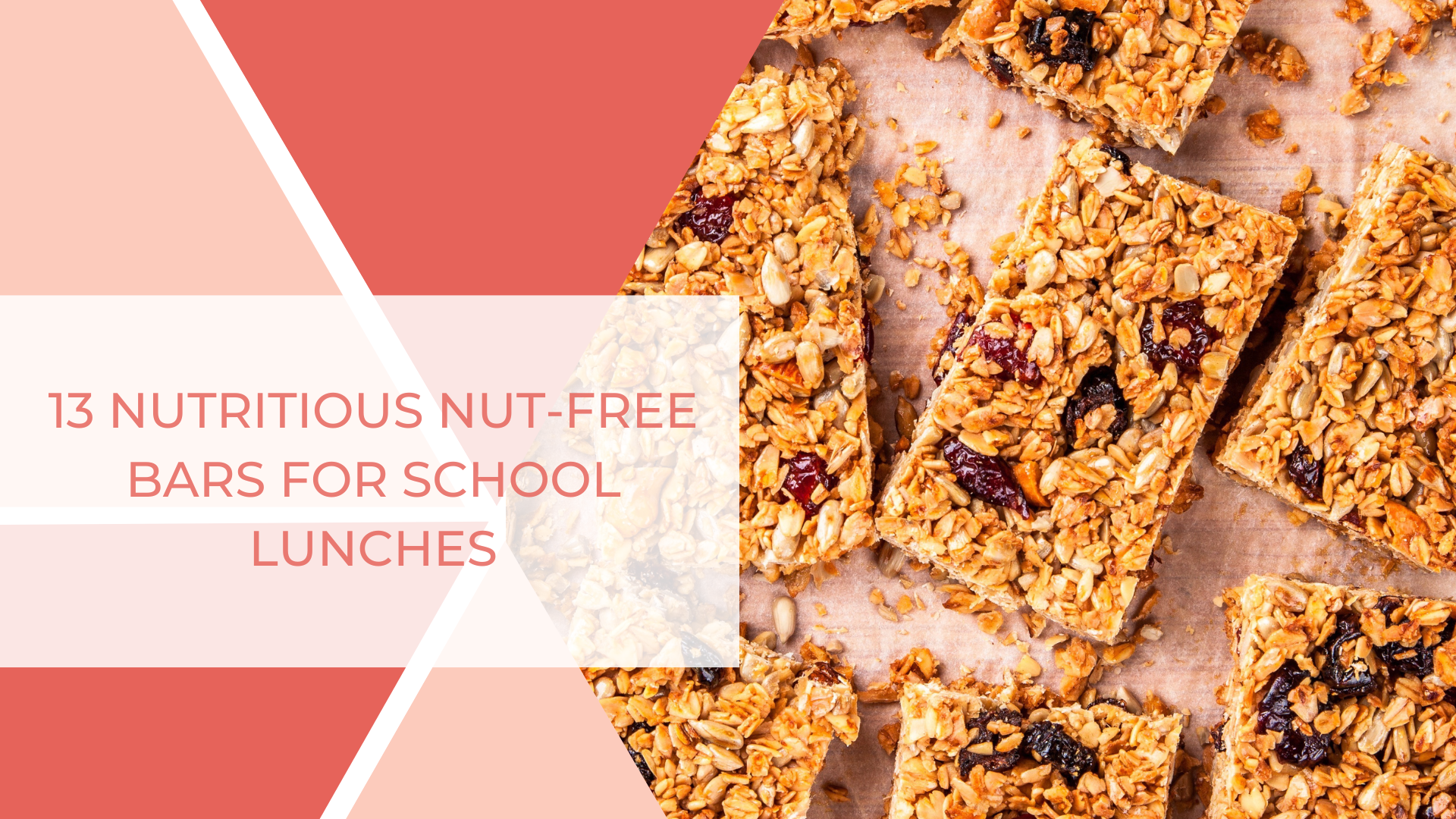 Limitations with eating are hard, no matter the reason. So, whether your kid loves PB&J…and only PB&J, or they're one of the many peanut/tree nut allergic kids, it's a big deal when there's a major restriction on lunch box options for school. 
When my son was first diagnosed with his allergies I couldn't imagine a life without nuts. Peanut butter is one thing…. But all those snacks and bars?! Finding safe options felt daunting to say the least. 
So if your kiddo needs nut-free snacks and lunches, I get it. It's a lot to navigate. But I've got you. Let's turn the lunch packing struggle bus around and make your life easier with these nut-free bars that make perfect school-safe snacks.
From chewy granola bars to cookie-flavored protein bars packed with energy, there's something for everyone on this list of nut-free bars– parents of kids with nut allergies (the biggest club you never asked to join…and I'm right there alongside you), parents whose kids go to nut-free schools, and those whose kids wouldn't touch a nut with a ten-foot pole.

The Truth About Snacks
Snacks get a bad rap, but they're a great thing! And they're necessary, especially toddlers.  
The only "problem" with snacks is when they don't provide the kind of nutrition that kids need. 
I encourage you to think about snacks as mini meals, ideally something without too much added sugar and that contains more than one food group. 
This way they have enough nutritional umph to carry your kiddo to the next meal (which is exactly what a snack is supposed to do).
What Makes a Healthy Nut-Free Snack?
Low added sugar. I love 5g or less. (it's tough to find!) Total sugar is a different thing and usually in bars that contain dried fruit and oats it's pretty high. That's okay. 

Ingredients – I like ones you can identify as "real." Ideally sugar isn't one of the first 3. 

At least 2 g of protein and/or fiber
It's tough to find all of these in one food. If you really want to make sure your snack has staying power, focus on protein and fiber. If your child snacks a bunch, sugar content might be more important for you to pay attention to. 
Not every day or every snack will be perfect and that's okay! This is a great outline to help you navigate the wide world of kids snacks and help you make the best decisions for your family.
13 Nutritious Nut-Free Bars for School Lunches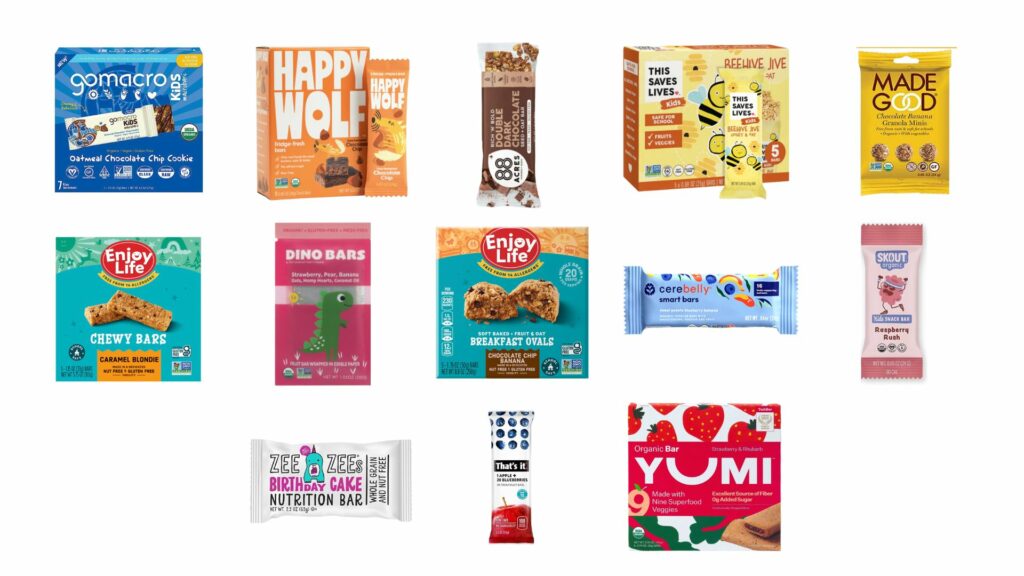 Love: 4 grams of protein! 
Don't love: first ingredient is sugar 
Love: free of all major allergens, excellent nutritional profile and contains no additives, sugar or preservatives
Don't love: need to be refrigerated
Love: nutrition profile 
Don't love: high total sugar content
Love: lower sugar than similar products, 3 g fiber 
Don't love: provides only 1 g protein 
Love: sugar and fiber content, free of most major allergens
Don't love: wish it had more protein 
Love – free of major allergens, only 1 g added sugar
Don't love – made with palm and safflower oil  
Love: a lot of nutrition packed into a tiny bar, only 1 g added sugar
Don't love: the edible paper is so cool, but can initially be a turnoff 
Love: a pretty hefty "snack" that should keep kids feeling full
Don't love: high sugar content 
Love: no added sugar, 3 g protein, 4 g fiber 
Don't love: no complaints 
Love: no added sugar, lots of protein and fiber
Don't love: no complaints
Love: no added sugar, great nutritional profile and ingredient list 
Don't love: limited availability (primarily at Target)
Love: 4 g protein; also comes in a mini option
Don't love: super high in added sugar 
Love: only 2 ingredients, no added sugar, free of all major allergens
Don't love: no protein
Two Picky Eater Friendly Bonuses 
Though not bars, these two picky-eater-approved snacks offer so much nutrition we couldn't exclude them. 
Love: free of major allergens; low sugar, 2 g fiber, 3 g protein 
Don't love: puffs aren't my favorite, but that's just a personal preference (and picky eaters tend to loooove puffs)
Love: no added sugar and 3 g protein
Don't love: no complaints