Read on to find my 22 favorite tools that can help even the pickiest eaters try new foods.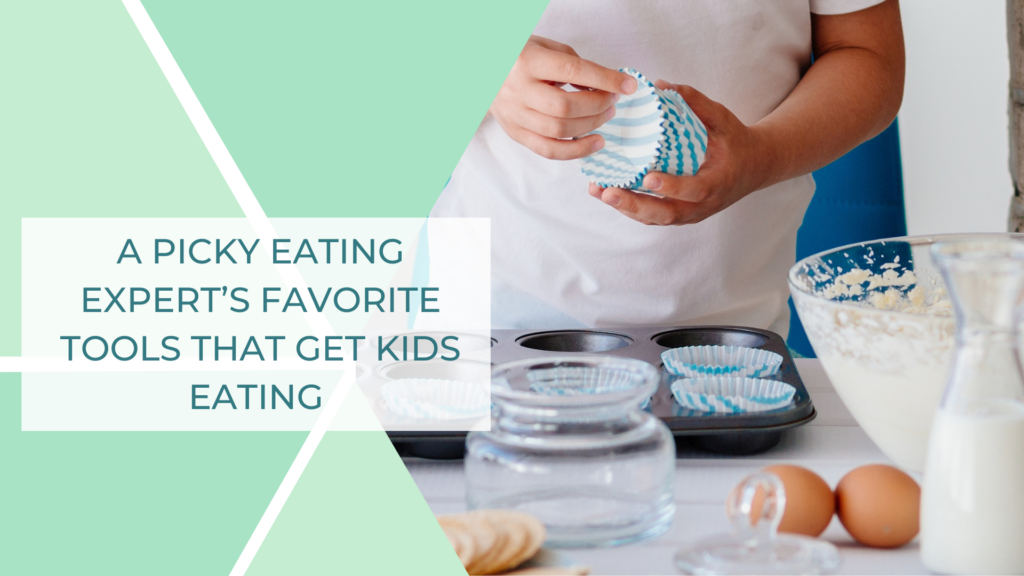 It's no secret that I love having kids get hands on with food. 
Research shows that positive food interactions and repeated exposures to new foods increase both a child's willingness to eat and the likelihood that they will enjoy a new food once they do.
So, how do you foster positive food interactions?
Play, food exploring, cooking, basically: getting hands on with food!
Kids are natural players. It's how they explore and understand the world. 
Food play taps into their natural skills and interests and allows them to build a comfort with food that can ultimately make eating easier. 
There's absolutely no reason that you need to invest a single dollar in food exploring supplies,  but I'm not gonna lie, having the right things can be an extra incentive for your child to engage. 
And often it's important to have all the help you can get (hands-on food interactions are that worth it).
My 22 Favorite Tools to Help Get Even the Pickiest Kids Eating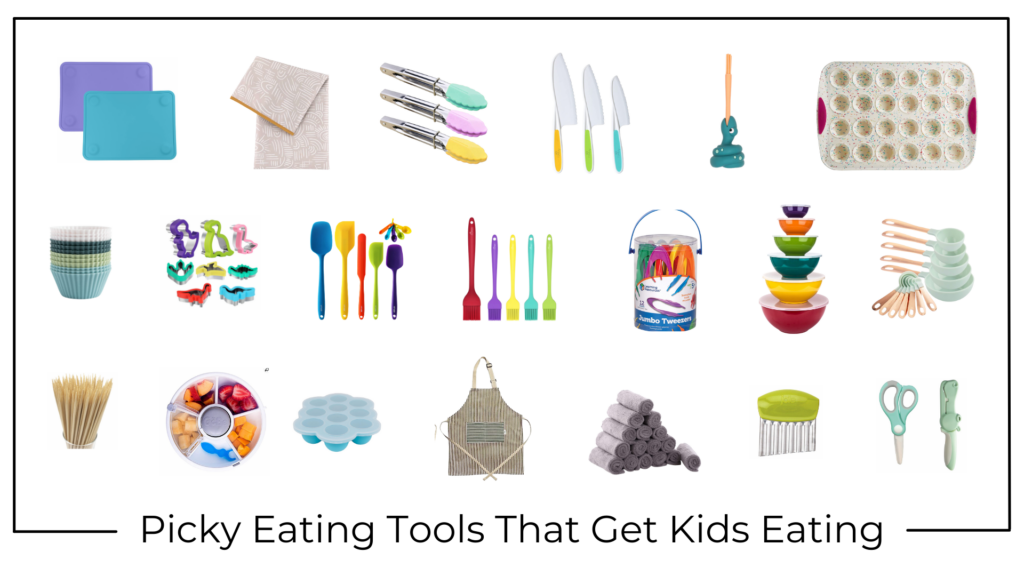 A silicone placemat with suctions that stays put and keeps your house (at least relatively) clean. 
And if you really have Neat Freak tendencies, a splat mat is a total savior. 
Mini tongs inevitably make things more fun. I love using them for kids who aren't quite ready to touch food with their hands. 
My favorite kid-safe knives that my son finds completely irresistible.  
Adorable ergonomic food picks and a food paint brush (!) designed specifically for food exploring (another irresistible set that my son just HAS to use when he sees them). 
Muffin tins! Like this mini confetti one (because why not?) and a classic option that is equally as fun.
The silicone muffin liners that we use every single day.
Mini food cutters with a great variety of shapes for everything from cucumbers to grilled cheese (and literally anything in between). Honestly, I don't whip these out often, but when I do they're a biiiiig hit. 
And big food cutters, too. We're in a new dinosaur phase, but mixed shapes and construction cutters would be just as exciting in our house.
Rainbow spatula set that's awesome for mixing concoctions and actual cooking. 
A silicone pastry brush set for painting with dips. 
Jumbo tweezers – another toy my son just needs to get his hands on.  
I have a toddler who likes transferring and mixing. And I'm a person who likes having kid-friendly tools that aren't too "precious" for said toddler. That's all to say these melamine nesting bowls with lids are one of the best purchases I've made
Measuring cups and spoons because cooking counts as exploring (it's actually amazing for picky eaters).
Skewers – yes, they're pointy. They're also really fun and great for picking up food, designing kebabs and more.
A silicone freezer tray for preserving leftovers, making homemade popsicles and organizing food. 
Aprons that are so cute I want them in grownup size. 
Soft washcloths for easy cleanup (we use these at the end of every meal and I highly recommend the gray for hiding stains). 
Crinkle cutter is a surefire way to get kids touching and eating (also great for introducing finger foods to babies).
Snack spinner. Enough said.
Scissors are an amazing entrypoint for kids who need that extra incentive to get hands on with a new food. They're amazing for herbs, soft breads and cheeses, doughs and more.