Here's why I stopped buying packaged snacks for my kids: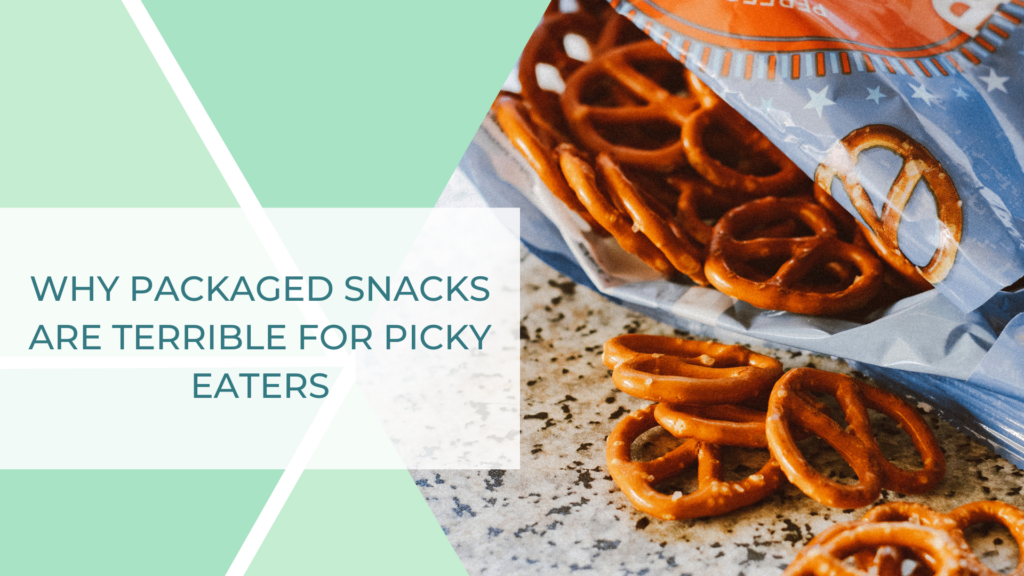 Just kidding! I'm in my packaged snacks era. Seriously, bring 'em! 
After a summer of painful car rides with one impatient toddler, I stocked up on all sorts of packaged goodies and have never looked back. Why? Nothing entertains my child quite like an edible item that comes in a crinkly package. 
So, as a mother, I am on board with packaged snacks. They can be a godsend. 
But, as a dietitian who works with kids who struggle to eat and essentially live off of packaged snacks, I also believe they could be making your child's eating even worse. 
Here's the deal: 
Packaged snacks are engineered to be deliciously irresistible. Things like fruits and veggies really can't compete.
Beyond that, they're so easy to eat. Uncomplicated texture. Delightful taste. No utensils or sitting at the table with your tush in the chair required. That's a picky eater's dream. 
Finally, they are exactly the same every single time. They're so reliable, and if there's one thing you need to know about super picky eaters, it's that they like knowing what to expect. 
So, in short, packaged snacks like chips, crackers, Goldfish and pretzels are music to a super picky eater's ears. And at the same time, they're reinforcing the very things you need to undo if you want your child to eat new and more nutritious (aka complex) foods: their preference for sameness, ease and simplicity.

This means that eating packaged snacks at the expense of other foods makes it even harder for your child to welcome new foods that don't come in predictable little packages.
So what's the parent of a super picky snack lover to do? I've got three quick tips for you:
Take snacks out of their packaging. Just trust me.  
All my son needs to hear is a slight crinkle and he's demanding to know where the snack is. Familiar packages have a magical lure that doesn't always work in your favor. The biggest issue I see with it is that it's one more thing for super particular kids to get hooked on. What happens when the packaging changes? Or when you try to serve them a different brand? They won't even consider it if it looks different. So take food out of its package NOW to save yourself hurdles later on. 
Change things up. Experiment with different brands and flavors. 
I know this might be a challenge, but the more variety your child tolerates with familiar, tasty easy-to-eat foods, the more likely they are to welcome new foods.
Make sure you're offering other snacky foods, too.
Don't only offer snack foods that come in a package. Get your child used to seeing things like fruit, sandwiches and even individual servings of cheese and hummus. Even if they're not eating these things yet, you're setting a precedent for the future. And every time you change things up, trust me, it helps them become more flexible.
Before you go! If you're as into snacks as I am these days (and I know you are), here are some of my go-tos for picky eaters: