This article provides a list of the best crunchy packaged snacks for picky eaters and also explains why kids and picky eaters love crunchy foods so much.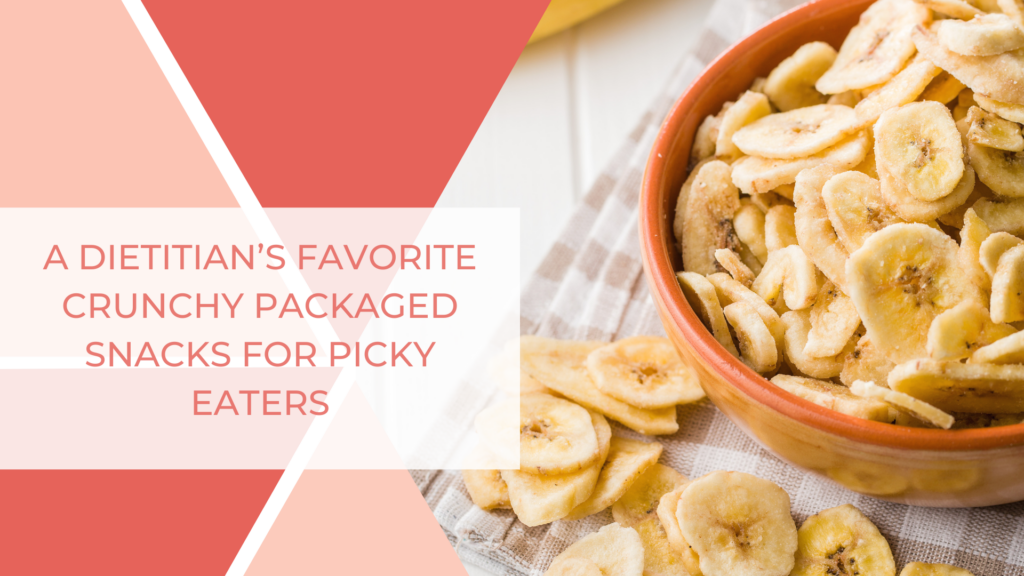 Have you noticed your child gravitating towards crackers, chips, puffs, pretzels – anything crunchy?
Crunchy foods, particularly crunchy packaged snacks, are a favorite among kids and especially picky eaters, but it can be hard to find healthy crunchy packaged snacks for picky eaters.

Why Do Picky Eaters Love Crunchy Foods?
Crunchy packaged snacks are predictable in taste and consistency. Every single bite is the same. Every. Single. Bite. Beyond that, every single back or box is the same. Your child always knows what they're going to get when they open the package of their favorite crunchy snack. It always has the same flavor, smell, consistency and look.
Crunchy foods are predictable and "safe" for young picky eaters.
Beyond predictability and sameness, the crunchy feels good in their body. It is normal for your child to prefer crunchy foods!
As a parent of  a picky eater, it's also normal for you to have concerns about the quantity of crunchy packaged snacks that your child consumes every day. 
I work with parents whose children go through one package of goldfish crackers in a single day. Like you, they feel their children would benefit from a more nutritious snack.
Use this list of healthy crunchy packaged snacks for picky eaters to find more nutritious alternatives to your child's favorite crunchy foods. Each is low in added sugar, rich in nutrients, easy to pack, and picky eater approved.
Healthy Crunchy Packaged Snacks for Picky Eaters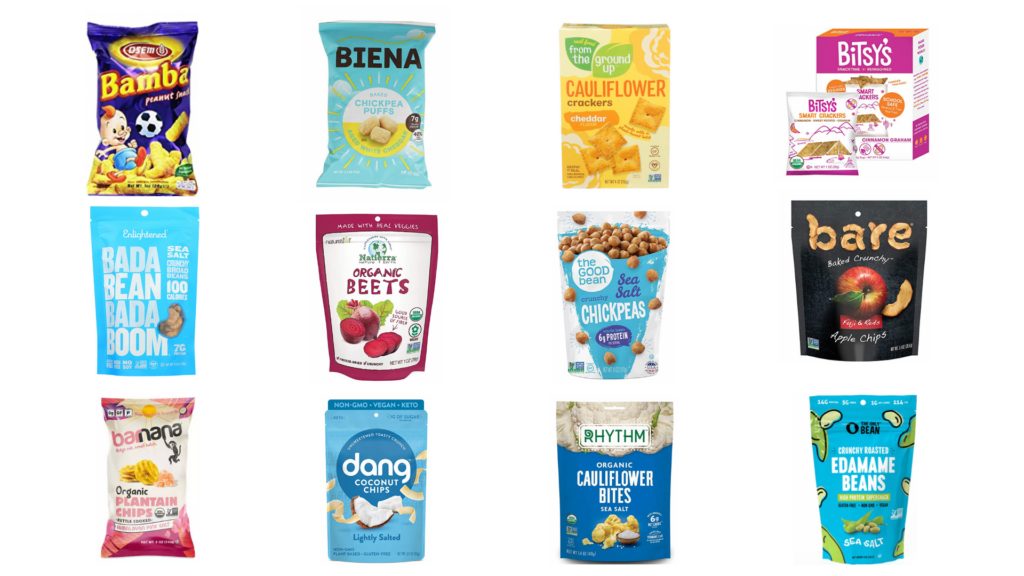 With a dose of protein and minimal ingredients, peanut butter puffs are the sweeter and more nutritious cousin of traditional cheese puffs. You can use these as a bridge to introduce peanuts and peanut butter to your picky eater. P-Nuff Crunch is a great alternative.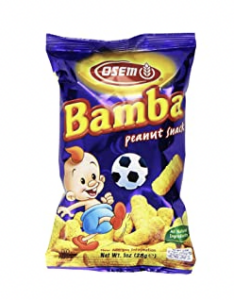 They taste just like cheese puffs but Biena Aged White Cheddar Chickpea Puffs are packed with protein since they are made from chickpeas – a nourishing and delicious alternative for your puff-loving picky eater!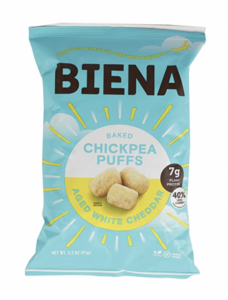 I work with so many picky eaters who LOVE cheese crackers. From the Ground Up Cauliflower Crackers are a nutritious alternative to cheesy classics like Goldfish crackers and Cheez-Its. They pack in a small dose of fiber and vitamins from vegetables and lentil flour.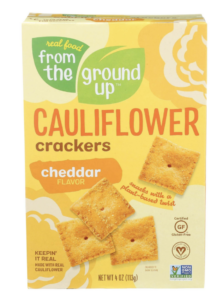 Made with whole grains and nutritious boosts like chia seeds, Bitsy's Brainfood Smart Crackers—which come in fun triangle shapes—have a great flavor without compromising nutrition. Try the cinnamon sweet potato.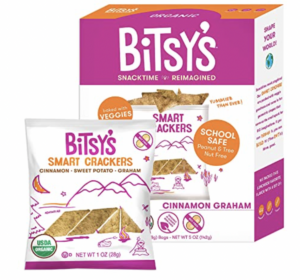 Oh man I love these! Not only are Harvest Snaps Snapea Crisps a fun way to bridge to green beans, sugar snap peas, or asparagus, they are also high in protein and fiber, making them a snack that actually offers nutrition. They're crunchy and salty, but also dissolve after the initial bite, so try them for young kids or puff-lovers.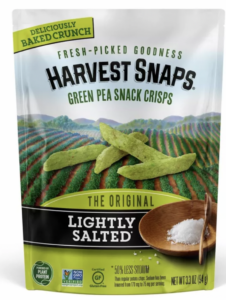 I can't get enough of these dried fava beans! They're a little thick so a might b ebetter replacement for a cracker than a chip. Unlike most crackers, though, Bada Bean Bada Boom is made with minimal ingredients and provide a decent dose of fiber and protein so they'll actually keep your child full.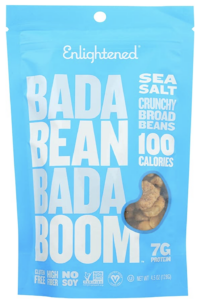 Natierra Organic Beets are a food bridging favorite of mine! This brand also offers freeze-dried peas, strawberries, apples, raspberry, blueberries, mango, and pineapple that are a great way to introduce fruits to a crunch-lover.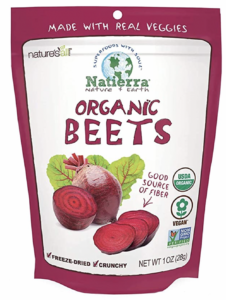 I love dried beans! Chickpeas are a great source of protein and fiber and these have no added sugar. Good Bean Chickpeas are so crunchy and fun to eat. Try offering them to kids who love popcorn, cereal, and chips.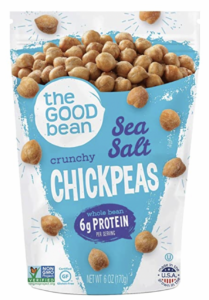 I've been snacking on Bare Snacks Dried Fruit  for years. They're just fruit that is baked until crunchy and crisp. I love these when you're looking to offer some crunch with nutrition and because they look just like real fruit, they're the perfect stepping stone for hesitant eaters.
Try Barnana Plantain Chips as an alternative for ruffled or crinkled potato chips and a fun way to bridge to bananas. If your child isn't into ridges, I like Terra (which also offers colorful veggie chips) and also have a lot of other options for crunchy packaged snacks for picky eaters.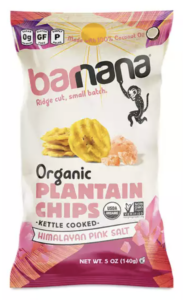 Dang Coconut Chips are so good! Super crisp, so they provide a ton of sensory feedback, and perfectly sweet-salty. Plus, they have only two ingredients, no added sugar, and one serving has 6 grams of fiber (that's a lot!!)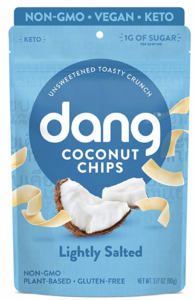 The combo of cheese flavor and a crispy crunch make Rhythm Cauliflower Bites picky-eater approved. Because they're not made with cauliflower, but actually are whole cauliflower florets, these are a perfect introduction to the vegetable world. Made with just a few ingredients, these are a great way to get some extra fiber into your child's diet.I also recommend experimenting with their carrot sticks, white cheddar broccoli bites, and kale chips.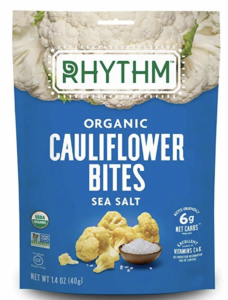 High protein, high fiber, crunchy and airy. The Only Bean Crunchy Roasted Edamame Beans are a treat and a tasty way to bridge to green veggies like peas and green beans.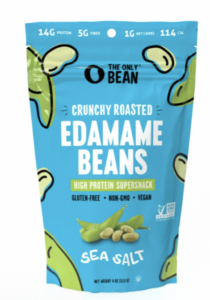 You can find more of my favorite crunchy packaged snacks for picky eaters and other picky-eater-approved foods here.