This article shares five lunch packing hacks to prevent and improve picky eating.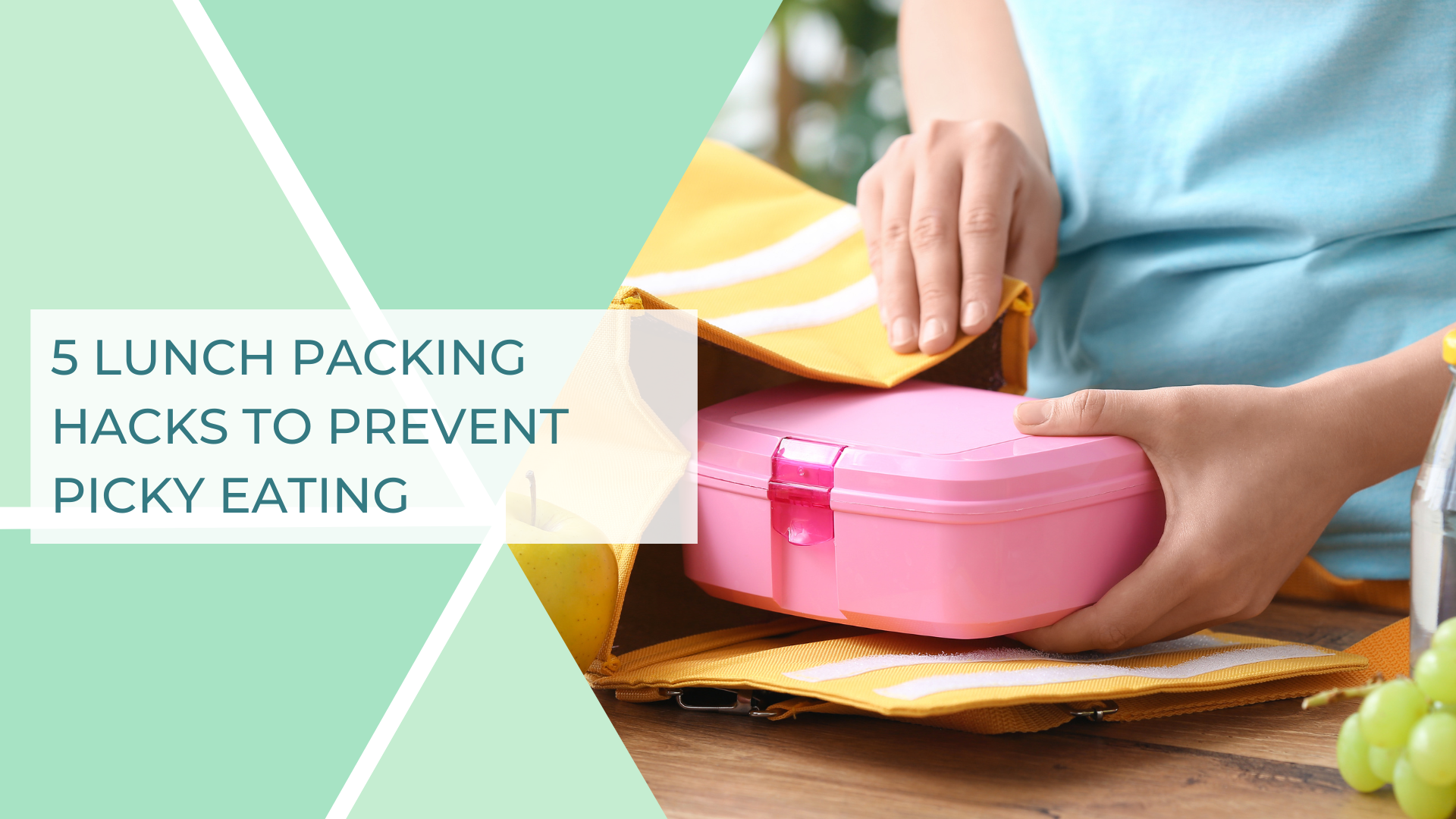 If you've ever felt like you're the head chef of a restaurant that only serves nuggets and crackers, I know you're desperate to leave picky eating in the dust.
Packing school lunches may be the bane of your existence (or it might feel like an impossible feat), but the lunchbox is actually full of potential when it comes to managing picky eating. 
I have five insanely simple yet effective ways to both prevent and improve picky eating. These lunch packing hacks don't add any steps or time or baggage to your daily mental load. But they can work wonders in helping your child become a more comfortable, confident eater.

5 Lunch Packing Hacks to Prevent Picky Eating
Rotate, rotate, rotate
This is your friendly reminder to *try* to avoid serving the foods day after day. 
To be completely transparent, I grew up eating PB&J from a brown bag almost exclusively and I now eat pretty much anything! 
But if you're packing lunch for a toddler, a child who drops foods, goes through food jags (LINK), and/or is on the more severe end of the picky eating spectrum, branching out from PBJ–or whatever your child's favorite its–is particularly important for you (and not only in the lunchbox).
Mix "safe" and "stretch" foods 
Always be sure to pack a preferred (or "safe") food for your child so they CAN eat if they're hungry. Not sure what counts as a "safe" food? Something familiar and comfortable that they eat most of the time. 
I like to also include a "stretch" food, something that they haven't tried yet or don't yet eat consistently. Packing a "stretch" item gives your child an opportunity to work on eating a new food all on their own (aka without you watching!). 
Change things up
Incorporating small changes to preferred foods helps keep your child a flexible eater and prevents food jags. 
Try mixing up: 
The type of sandwich bread you pack

Brands of preferred foods 

Flavors (like different flavors of cheese or jelly)

How you cut things 
Find Fun  
My son seemed so young when we first sent him to preschool with his packed bento lunchbox. I wanted him to open it up and feel a sense of joy and familiarity (plus there were just so many little boxes to fill!). So I started including a sticker. What a cool surprise, right? (FYI he totally thought his teacher was packing his lunch for almost a solid school year.)
Honestly, it's just as much for me as it is for him. Even as you're changing it up, the whole routine is bound to get stale. So now most days he's getting a sticker (I love seeing it on his shirt when he gets home). And if it's not a sticker, some days it's a food "treat". 
So consider adding in a fun item – food or non-food. Completely optional, but highly recommended.
Designate "lunchbox only" items 
Another way to keep things fresh and increase incentive to eat is to reserve some foods for packed lunches only. 
This is another way to create a sense of novelty and can also help keep that food (as well as others) in rotation.
For us, it's peanut butter items (which we can luckily send to school, but limit at home due to sibling allergies).