Welcome to March's Four Fun Things, which is (unintentionally) a roundup of ways you can get your kiddo into the kitchen cooking with you.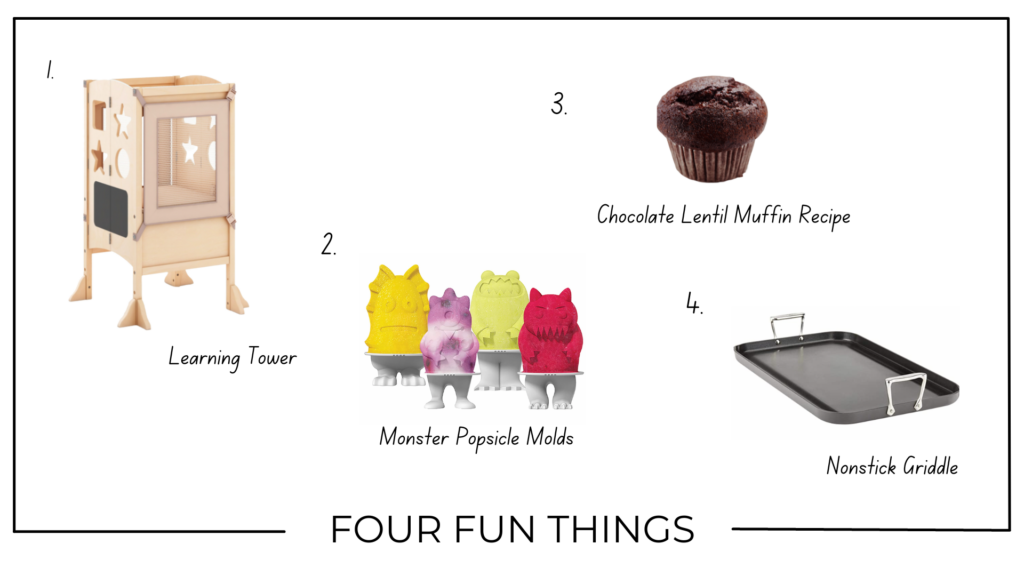 I hope the three products I've shared bring you as much joy and success as they've brought me and my family and that the recipe brings you as much success and enjoyment as it has brought to my clients.
A learning tower was something I always envisioned in life with kids and let me tell you, it's lived up to my expectations. 
My son starts nearly every morning making eggs with us in his "tower" and it has saved us so many times when the battle to get him into the highchair just isn't worth it – there's nothing wrong with using this as a "chair" (by which I mean, he stands in it to eat his breakfast at the counter).
We love this one from Guidecraft one because it folds (a must for city living), but I also debated getting this one
I'll be honest: this purchase was mostly for me. 
"How badly do we need these?" I texted my husband in the middle of my son's obsession with "pops" (aka popsicles aka ice pops).
All it took was one "bad" and they were in my Amazon cart. 
Pops are no longer the commodity they once were, but the monster molds are more fun than ever. Yesterday he was brushing the monster pop's teeth and it made my dietitian/feeding expert heart sing. 
That's probably enough to justify buying the penguins, right?)
Another honest moment: I haven't tried these. But tons of parents in my Eating with Ease Inner Circle (a community and membership for Eating with Ease alumni) have. It's become a "thing" to make them and post a picture sharing the success. 
I feel like they're a magic recipe – kids love them! 
If you're looking to get more protein into your kiddo's diet or just want a fun cooking activity with a nutritional boost, give these a try and let me know what you think.
I've wanted a griddle for years but the desire grew so much stronger once a very impatient toddler began to help me in the kitchen. He just doesn't have the patience required to make a full batch of pancakes 3 at a time in a standard frying pan. And that turned an experience that I love and was supposed to be fun for us into something pretty torturous. 
Enter my new griddle. 
Complete 180.
Pancake morning? It's fun. It's quick. It's easy. 
Thank you to my husband for finally making this happen for me!