Welcome to a new series here at Feeding Picky Eaters
Every month I'll be sharing a few fun things that I've been loving (most likely related to my kids or experience as a mom) or using in my work with families (think recipes, tools and fun feeding strategies). 
Recently, I've found myself wishing someone would tell me the exact things I need. If you're anything like me, this would save you hours of research and deliberation that go into far too many decisions.
I hope this series does that for you. 
P.S. Some of the links you'll see are affiliate links, which means I may earn a small commission if you purchase. Everything that I share is something that I genuinely use and love. Thank you for supporting the work that I do.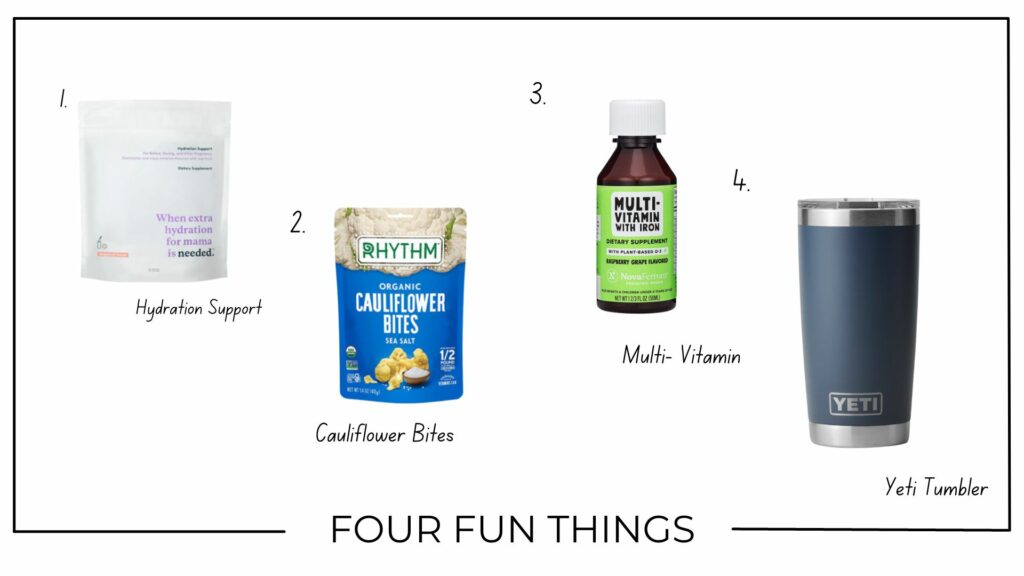 Part of me resents spot-on Instagram ads, and part of me loves the happy discoveries. Needed is one of those things that wore me down, but also gave me exactly what I, well, needed. 
I really struggle to sleep when I'm pregnant, and Needed's sleep + relaxation support is either magic or a very effective placebo. I'm continuing to use it along with their hydration support (because flavor is the only thing that gets me drinking enough water these days). 
Needed has generously shared a discount code for you: PICKYEATERS gets you 20% your purchase
Cauliflower is one of my favorite vegetables, so it was a huge bummer when my once omnivorous toddler decided he didn't like it any more. A friend shared these with him one day and I can't blame him for being hooked. They're sooo good. Crispy, salty, crunchy. Yum. 
I'm definitely a stickler when it comes to packaged snacks, but I make an exception for these because yum and just look at this ingredient list: organic cauliflower, organic high oleic sunflower oil, sea salt, organic maltodextrin. 
Best part? Guess who decided he likes cauliflower again??
My older son's been borderline iron deficient for a long time. When his pediatrician said we could consider a multi with iron, I jumped. Anything to avoid those finger pricks.  
Now, this is not an easy thing to find! Most basic kid's multivitamins (even my favorite), don't contain iron. 
We started this one recently and he loves it (this was also a strong consideration). Here's hoping he has fewer blood draws in the future.
Yeti Tumbler

(aka my tea mug) 
If you follow me on Instagram, you've definitely seen this make an appearance. This insulated mug was actually a gift from my realtor. I was ready to toss it – because who needs one more random mug? The answer is me. I needed this mug. 
I have used it every single day since receiving it. I don't even use regular mugs for tea anymore because this one is so great. It's big. It's sturdy. It keeps my tea hot, so it's still feeling fresh even if I start drinking it hours after making it (hello mom life!).