This article shares the best probiotics for picky eaters, according to parents of very picky eaters. You'll also find tips on how to pick the best probiotic for kids and what to consider when selecting a probiotic for kids.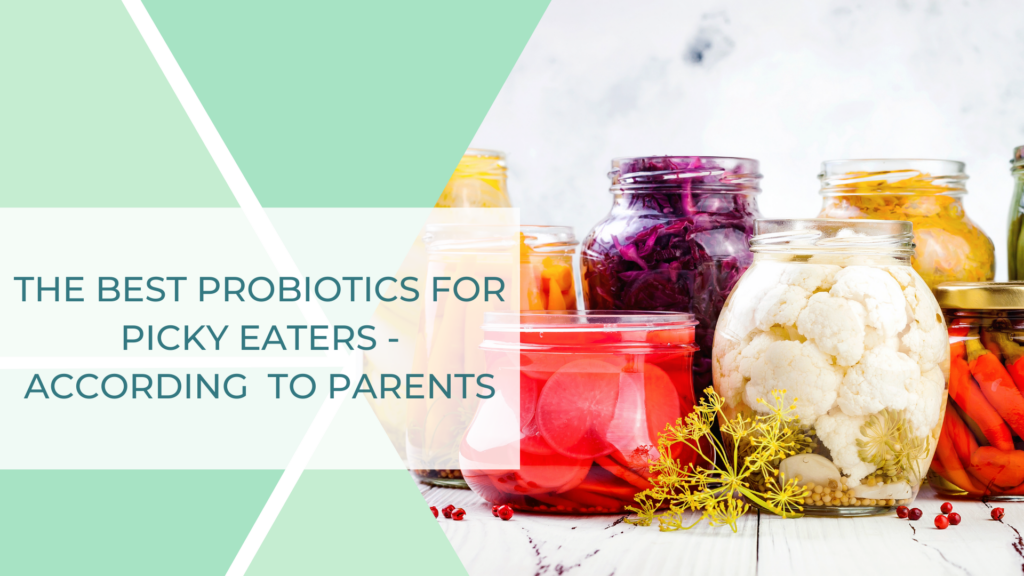 Looking for the best probiotics for picky eaters? I polled parents of extremely picky eaters asking for their favorite probiotics.
Below you'll find a collection of probiotic powders, gummies, chewables and liquids that are picky eater approved.
Factors to Consider When Selecting a Probiotic for Kids 
Form 
Probiotics for kids come in many forms, typically powders, gummies, chewables and liquids.
Ingredients
Always check ingredients to make sure a product will work for you. Some probiotics contain added sugar or synthetic flavors. Some contain vitamins, added fiber, and prebiotics. 
Flavor 
Flavor is one of the biggest factors to consider for extreme picky eaters. Some kids love a gummy probiotic that reminds them of candy. Others will only accept a flavorless powder that can be mixed undetectably in their preferred foods or beverages.
Cost
Probiotics can get expensive, so it's smart to consider cost when selecting an option for your child.
Do Kids Need a Probiotic?
Probiotics are generally considered safe for most children. 
If your child is eating a varied diet, is growing well, and doesn't have digestive issues, they may not need or benefit from taking a probiotic. 
A probiotic may help kids who do have digestive problems, such as constipation or diarrhea. A probiotic can also be helpful for a child who does not eat many foods that naturally contain probiotics or who frequently take antibiotics. 

The Best Probiotics for Picky Eaters (According to Parents!)
The Best Powder Probiotics for Picky Eaters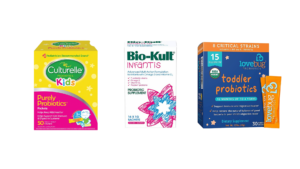 Parents say the Culturelle probiotics are completely flavorless and don't change the consistency of foods they're mixed with ("undetectable even in water!"). Plus, the convenient packets make them portable and easy to mix with foods.
A lot of families use Biokult, another unflavored powder available in packets. These are supplemented with vitamin D and omega 3s.
Take it from parents directly: 
"Tasteless! I put the powder in milk."
"We started using [Love Bug Toddler Probiotics] to help with my daughter's gas and bloating when she was about a year old. I noticed an improvement in bloating."
"They come in individual powder packets which is convenient." 
The Best Gummy Probiotics for Picky Eaters
Olly probiotics are coated in a sugary topping giving them almost a crunchy texture. They are combined with a multivitamin, which means you only need to negotiate with your child to take one supplement. They come in a cherry punch flavor. Kids under 4 only need to take one.
This recommendation comes from a mom of twins who love the grape-flavored gummies.
Digestive Advantage probiotics look and taste a lot like gummy bears. The mom who recommended them buys them at Costco. "I like that they're straightforward probiotics without any other random supplements or ingredients that I don't want. They're very tasty, too," she shared. 
The Best Chewable Probiotics for Picky Eaters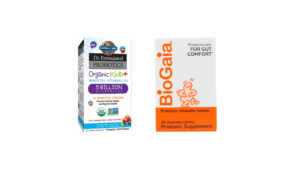 BioGaia had a lot of recommendations. It's available in lemon lime.
Garden of Life offers pre- and probiotic strains and has no added sugar. They come in a variety of kid-friendly flavors: berry cherry, strawberry banana, watermelon.
The Best Liquid Probiotics for Picky Eaters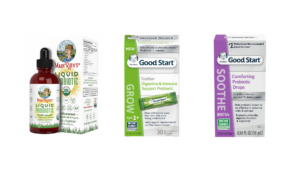 Mary Ruth's probiotic is a favorite among parents. A client of mine feels like it was made for the pickiest of eaters. "It's like water. I put it in my son's yogurt and he has no idea!"
Gerber Soothe is a liquid intended for infants up to 12 months. You can upgrade to Gerber Good Start, a powder for older kids.
Looking for multivitamins for picky eaters? Here's a list of the best multivitamins for picky eaters.