Read on for 10 quick and easy pick eater approved summer lunch ideas.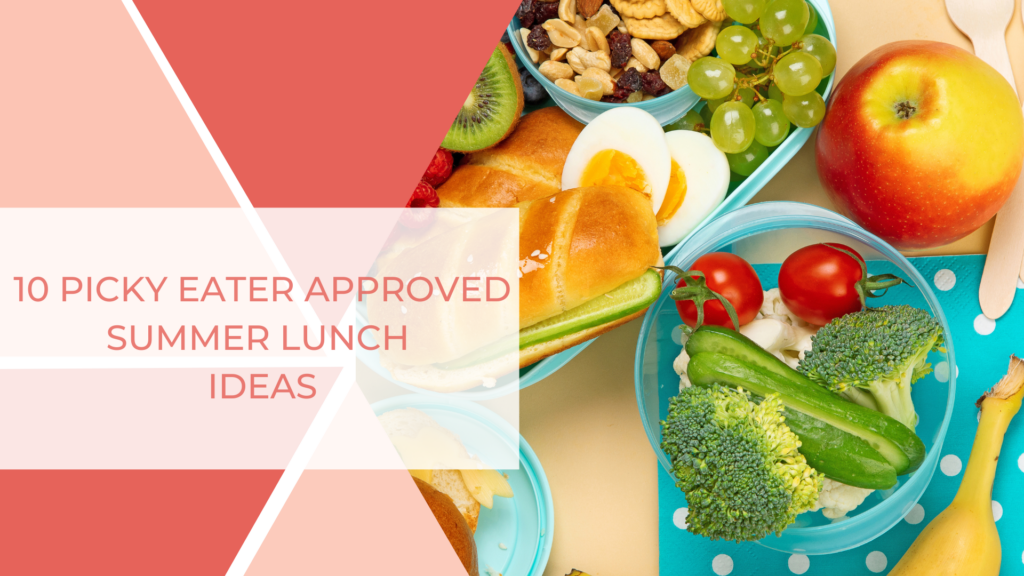 Whether you are packing a camp lunchbox or serving plated meals at home seven (loooong) days a week, these 10 summer lunch ideas will make your job a little easier. 
Customize and adapt as you need to match your child's preferences.Have some extra time and want to keep your child busy (with the added bonus of boosting their comfort and confidence with food!)? Invite them to lend a helping hand with food prep and cooking. Hands-on food interactions can dissolve food aversions and bring kids closer to eating.

10 Picky Eater Approved Summer Lunch Ideas 
Mini egg muffins – These egg muffin cups pack in the protein! Plus, they are easily customizable. Leave out the veggies if they're a no-go. Serve them alongside preferred crackers or fruit. We like to make a batch to freeze and for an easy grab-and-go snack or lunch.
Yogurt parfait – Layer your child's favorite yogurt, preferred fruits, and granola or cereal. Better yet, let them do it! The yogurt provides fat and protein to keep them going throughout the afternoon (plus a generous dose of calcium). Your child's not a fan of yogurt mix-ins? Try these kid-friendly energy bites as an alternative. Or keep it super simple and just serve everything separately.
Cheese and crackers snack box – Load up on grapes, baby bell cheese, preferred crackers, and some cut fruits or veggies. Kids love how fun snacky meals seem. Best part? They couldn't be easier to make. Get creative playing around with textures and flavors, or even try making a homemade hummus with a dose of veggies.
Breakfast for lunch – Another meal that kids find irrationally fun. Include fresh fruit, nut butter, or yogurt to make a complete meal. I love to freeze a stash of pancakes and waffles to make things extra easy.
Deconstructed taco – your child might not be eating tacos yet, but it's a great meal to work towards. Pick a protein and pair with preferred toppings like shredded cheese, chopped tomatoes, lettuce, or mashed avocado. Your child can choose a crunchy or soft shell.
A simple (or not so simple) peanut butter sandwich – There's nothing wrong with the classic. You can turn things up a notch by swapping the jam for fresh fruit or using whole wheat bread.
Deconstructed nachos – Basically an excuse to eat tortilla chips, but it's bound to please any chip-loving kiddo out there. Serve with their preferred cheese and some salsa or guacamole if your child is up to it.
Pizza bagels – Another great recipe for your child to master. Try it as is, add some veggies if they're up to it, or swap out the bagel for an english muffin.
Fruit & nut butter pinwheel bites – Sometimes a fun shape can turn things up a notch….or present a welcome challenge to your child's food flexibility. I love that these little bites hold well throughout the day while providing a good dose of healthy fats and protein. Customize as you need and definitely invite your child to help out with this recipe.
Anything goes lunch – It's always okay to fill your child's lunch with an assortment of food that "doesn't go together." You can pair cheesy crackers with mac n cheese or leftovers with…anything! The important thing is that your child has food they feel comfortable with and gets enough nourishment to hold them over until their next meal or snack
Looking for even more lunch ideas? I've got you:  
Back-to-School Lunch Ideas for Picky Eaters
Quick & Easy Gluten-Free Dairy-Free Lunch Ideas