In this article, you will find the best snack bars for picky eaters, selected by a pediatric dietitian and picky eating expert.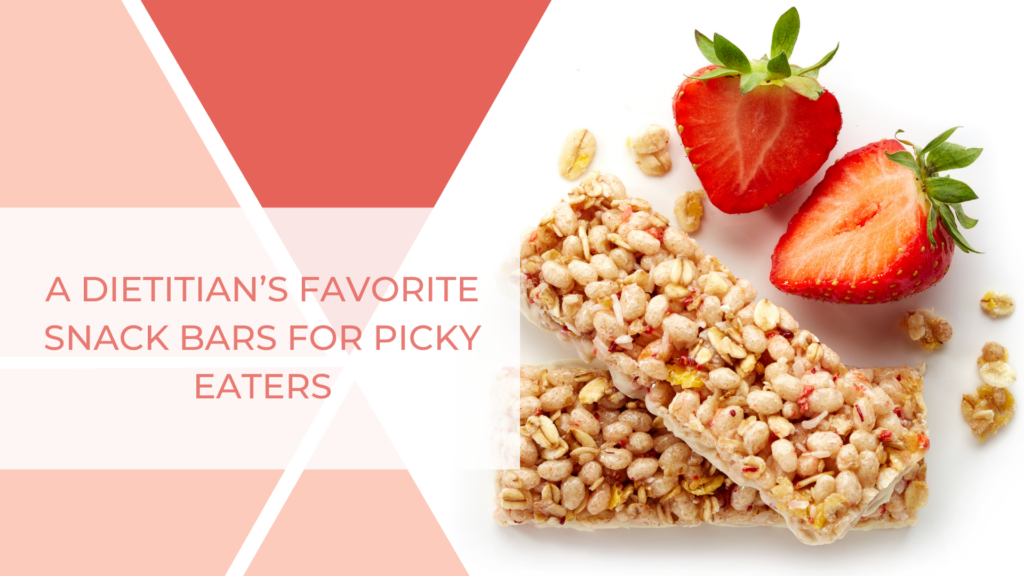 I know how overwhelming and outright confusing it can be to find nutritious snack bars that your kids will actually eat. There are SO many options. 
Add in your picky eater's preferences and it's that much more complicated!
To save you a lot of time and cut through the confusion of nutrition labels and ingredients lists, I've narrowed down a list of my favorite snack bars for picky eaters, products that I recommend and use in my practice with extreme picky eaters and kids with severe eating challenges. .
The list of the best snack bars for picky eaters is organized by bar-type so you can scan and find exactly what you need based on your child's preferences. 

A Dietitian's Favorite Snack Bars For Picky Eaters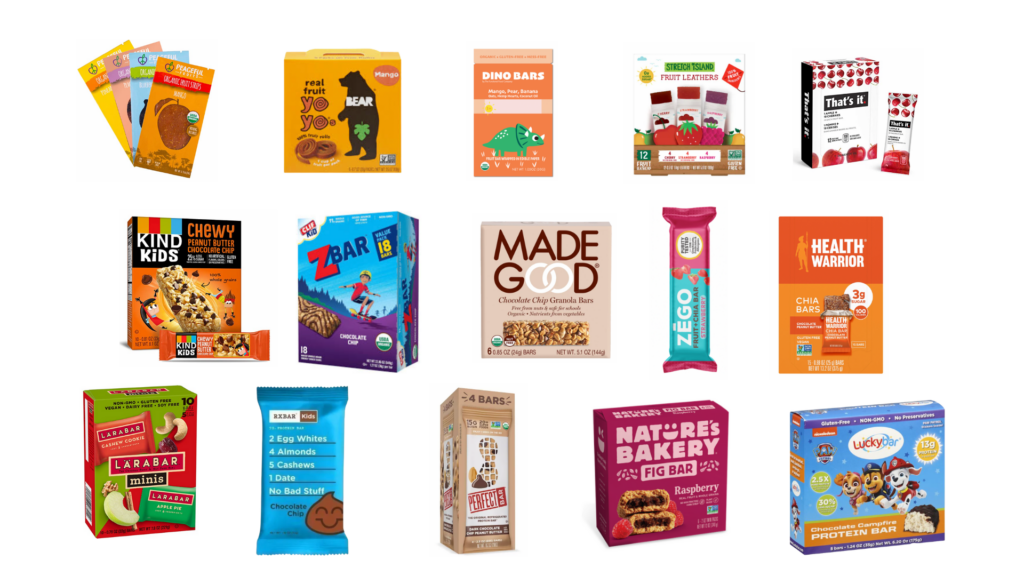 How to Choose the Best Snack Bars for Picky Eaters
Here are three tips to keep in mind when buying snack bars for picky eaters (and all kids, and yourself, too!):
Look at the ingredients. Pay special attention to the first 3. I try to avoid bars that have sugar (or anything related to sugar) as a main ingredient. This is really hard to do!! Instead, look for whole foods and ingredients that you recognize (whole grains, dried fruits, and nuts are some good options) as the main ingredients. 

Look for a minimal amount of added sugars. Try to aim for around 5 grains of added sugar if possible. 

Look at the protein, fat, and fiber content. These are all things that help keep kids feeling full.
Fruit Bars and Fruit Leathers
Look for fruit leathers that are made with fruit only. Because the texture and stickiness varies greatly from brand to brand, it might take some time to find a variety that works for your child. 
That's It Bars – These all fruit bars are made with, yes, just fruit. They are soft and not too chewy, so they're a good option for younger toddlers too.
Dino Bars – Dino Bars are one of my favorite bars out there – easy to chew, made with recognizable ingredients, and pretty much mess-free thanks to edible paper (it's very cool!).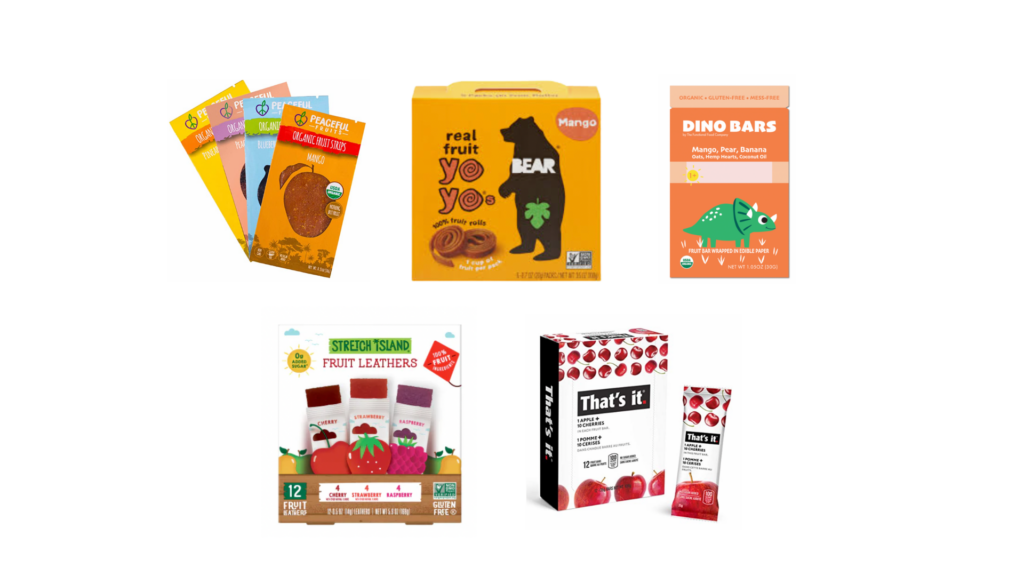 Granola Bars 
KIND Kids Granola Chewy Bar – These chewy, but not too chewy bars come in three flavors—Honey Oat, Chocolate Chip, and Peanut Butter Chocolate Chip—and are frankly totally delicious. While sugar (in the form of tapioca syrup and honey) do make it into the first 3 ingredients, the overall added sugar content isn't through the roof and is less than similar alternatives.
Kids Cliff Z Bars – Cliff Bar's Zbar is specially made for children with a blend of organic whole grains. Kid-friendly flavors like cinnamon roll, smores, and chocolate brownie are picky-eater-approved. Be mindful: these bars have a chewy texture. 
Made Good Granola Bars – Chewy and flavorful, Made Good granola bars are made with vegetable extracts (but conveniently for kids, don't taste like veggies!). While the veggies are a nice touch and most bars have 2 grams of fiber, sugar tends to be high on the ingredients list.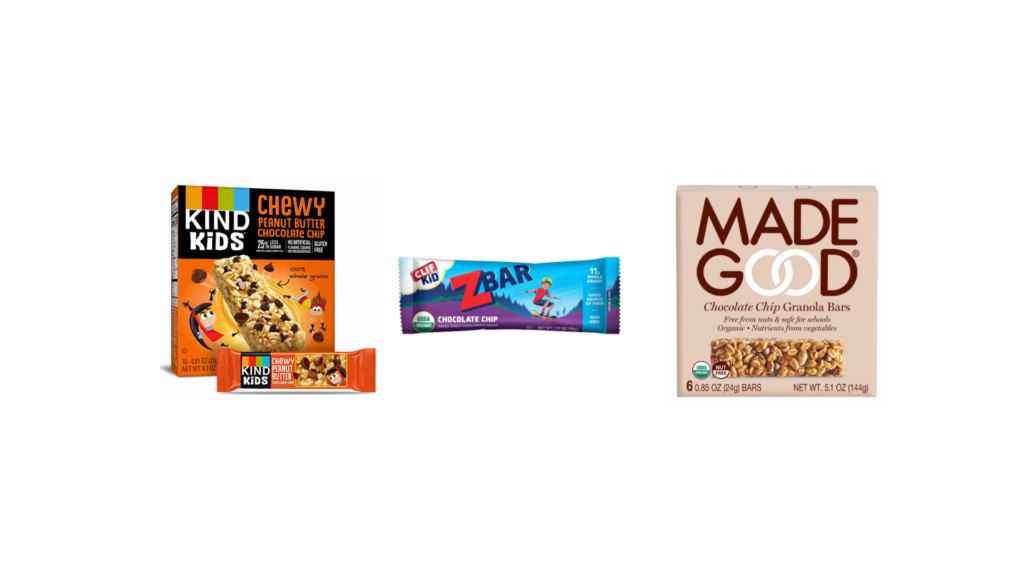 Chia Bars 
ZEGO Fruit Chia Bars – I love these bars that are made from fruit purees and organic chia seeds. Chia seeds add crunch, texture and are a great source of Omega 3 fatty acids, protein and fiber. With such simple ingredients, this is a great once-in-a-while option for toddlers as well. 
Health Warrior Chia Bars – Health Warrior Chia Bars have one of the lowest sugar contents out there, making them a great option for more frequent snacking. They come in a variety of fruity and more indulgent flavors like coconut, chocolate peanut butter, caramel sea salt and mango.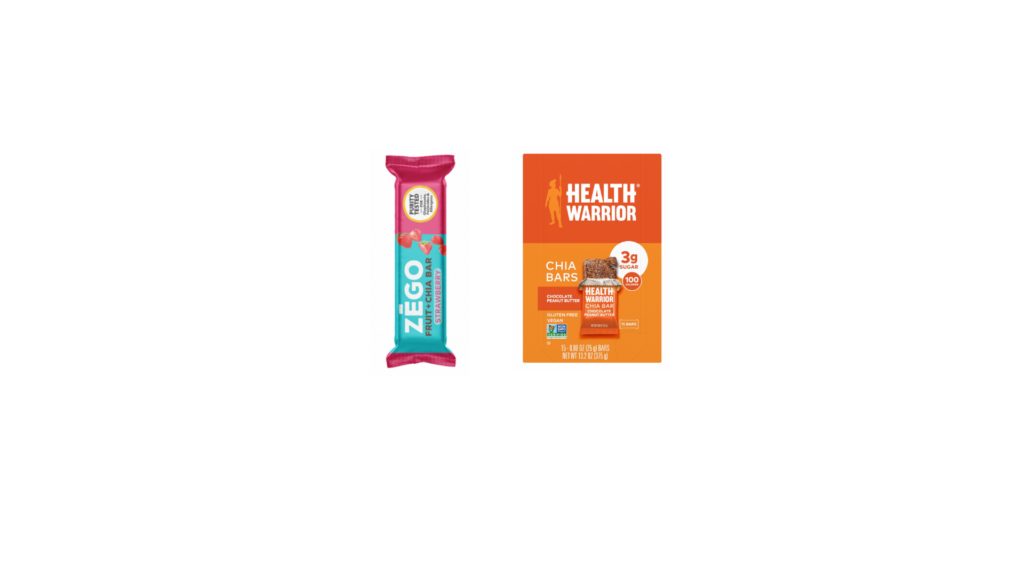 Chewy Bars 
MINI LARABARS – Half the size of traditional Larabars, mini bars are a perfect little kid size. I love the whole food ingredient list, dense, but not tough texture, and yummy flavors. 
RX Kids Bars – RX bars were one my go tos and I was happy they came out with a mini version for kiddos. They are much chewier than Lara Bars and also have a great nutrition profile and ingredients list that keeps kids feeling full. 
Perfect Bar Kids – Perfect bars were created to be "the hero of snack time" and have a soft, chewy texture that kids love (the chocolate chip flavor helps, too!). Because they're made with peanut butter, Perfect Bars have a healthy dose of protein that keeps kids full. The bars also contain a mix of superfood powders from carrots, kale, and sweet potatoes among others. Note that while they contain no artificial preservatives, they do need to be refrigerated. 
Nature's Bakery Fig Bars – Made with whole wheat flour, they are a denser and more nutritionally robust alternative to Fig Newtons. They also come in a variety of flavors. Because of added sugar and brown rice syrup, try to serve half of a pack at a time and pair with milk or cheese for a little extra protein.
Lucky Bar – Lucky Bars are made by the mom of a picky eater, who was eager to add some protein to her child's diet with a kid-friendly taste and texture. These are a protein-focused bar.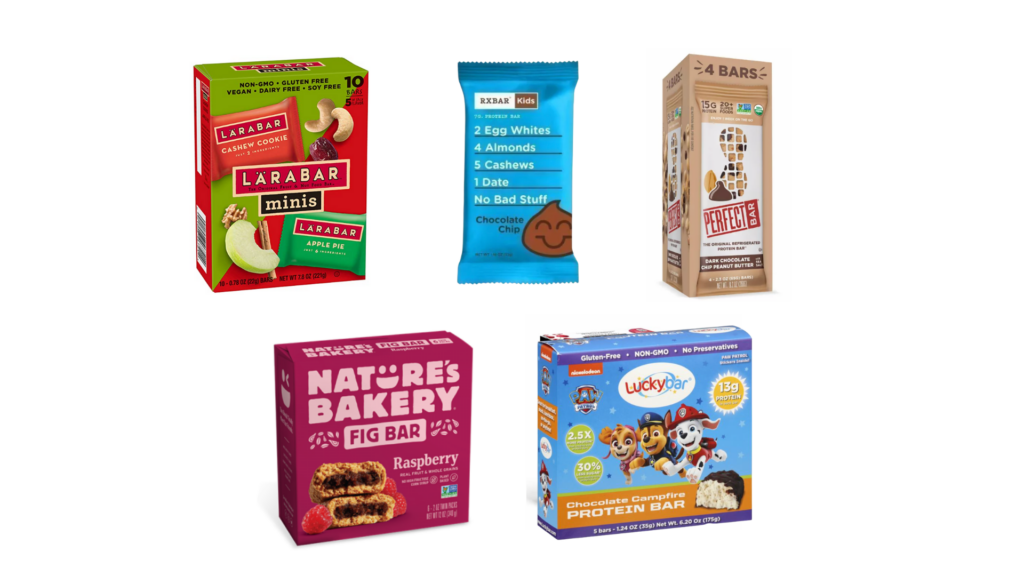 This post may contain affiliate links. If you shop from one of our links, we may earn a commission.