This article shares 6 mealtime games that can help meals feel better so your picky eater tries new foods.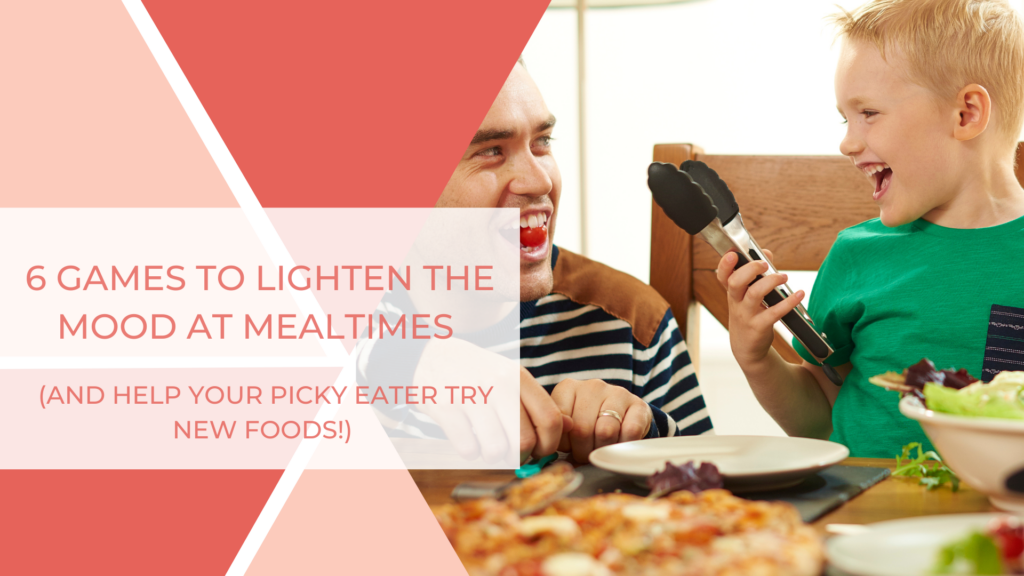 "For some reason parties and holidays tend to be easier for my son."
Liz shared this recently with our parent community in the Eating with Ease Program.
Sarah replied that her daughter ate things at friends' houses and in school that she wouldn't even want to sit near at home.
These statements reminded me of the meatball story.
The reality is that your child's decision to eat is influenced by a gazillion (yes, that's a scientific fact and exact number) of factors. 
But there's one thing that time and time again gets kids eating, whether it's at home, with their friends, or – however shocking it may be – at a party or holiday. 
That thing is a complete lack of pressure and focus on food. 

It sounds simple, but ignoring food is pretty tricky when it's surrounding you at the table (and you're just so desperate for your child to eat at least a bite of it). 
One way to take the focus away from who is eating what and how much is to find something else to talk about. I'm a toddler mom, so I know it's easy to get stuck on only talking about food, especially with little kids, and especially ones that need prompting to eat. 
But when we do that – when we try to get them to eat – we often get the opposite result. 
We want to make all of this easier for you, so today we're sharing 6 simple mealtime games that make mealtimes more fun, take the focus away from food and eating, and create the space your child needs to try new foods all on their own. 
6 Mealtime Games to Lighten the Mood
Costume Night 
Come to the meal dressed in costume and try to stay in character while eating
Rhyme Word Train 
Someone starts with a word, and others have to think of a rhyming word or as many as they can. Bonus points to put them all in a sentence. 
Fun Convos 
Musical Meals 
Take turns picking music to play during the meal. Dancing and singing are totally allowed.
Alphabet Word Game 
Think of words or play I-spy to find items that start with each letter of the alphabet. Make it a challenge to not use any food words.
What's Missing? 
Everyone closes their eyes while one changes or removes something at the table and the rest guess what it is.
What mealtime activities do you like that take the attention away from the food?