This article shares 4 simple ways to decrease relationship stress with your partner when you disagree about parenting challenges, like a child's extreme picky eating.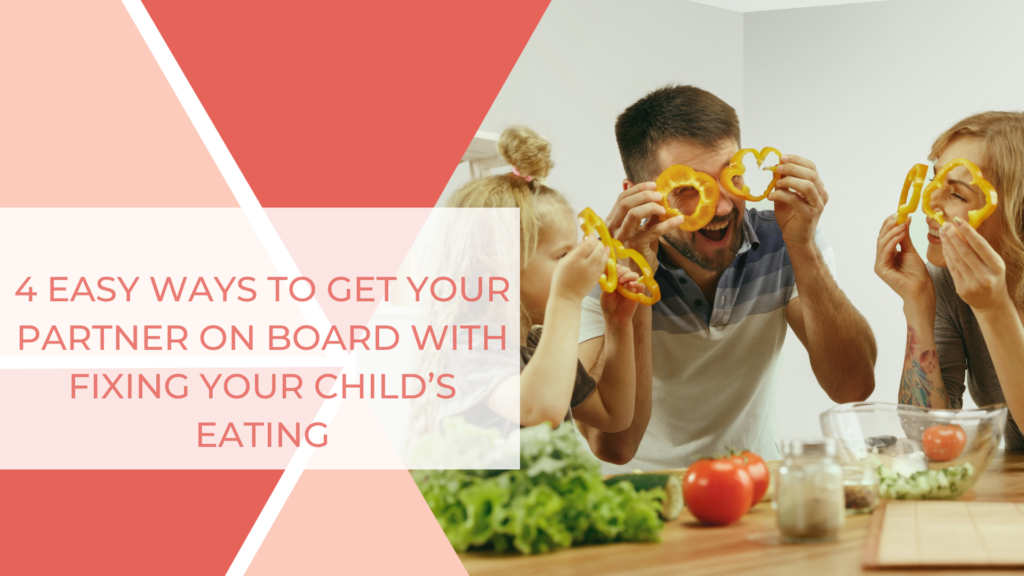 It's one thing if you're dealing with your own frustration and burnout about your child's eating struggles. 
Throw conflict with your partner about how to effectively address your child's eating challenges into the mix and you're looking at next level pressure on top of an already high-stress situation.
You both want what's best for your child, but you're not on the same page about how to get there. 
It's tough. 
And it's not just you. 

In a poll on the Feeding Picky Eaters Instagram page, 88% of respondents said their child's eating challenges causes tension with their partner and 81% admitted they disagree with their partner on how to approach their child's eating challenges.
I recently sat down with Dr. Tracy Dalgeish, a clinical psychologist and couples therapist, who helps women and mothers build healthy relationships. 
Dr. Tracy and I talked about navigating parenting challenges and relationship strain in the context of a stressful situation like helping a child who struggles to eat.
Here's a summary of our conversation. 
How to Talk With Your Partner About Your Child's Picky Eating 
How do you start a conversation with your partner about a stressful parenting issue?
Dr. Tracy's best tip for broaching tough topics is to plan a time to chat where you can be "open and curious." She recommends exploring how things are working for you as a parenting team. Take a look at what's feeling good and what isn't, not just for your child, but for the two of you as partners.
How can you talk to your partner about a parenting topic you know you disagree on?
This is another opportunity for open conversation and a chance to explore where differing beliefs could be stemming from. Dr. Tracy recommends that you each share your own experiences with eating as a child – 
How did it feel? 
How did it ultimately work out? 
What did you like and not like about that approach? 
Then you can explore your values as a family on this issue.
How do you decide on an approach to take with your child when you and your partner have different beliefs about handling the situation?
Often, one parent takes the lead on finding a possible solution for issues that arise with kids. It can feel really personal and hurtful when your partner isn't on board after you've put time into creating a plan. 
When this happens, Dr. Tracy recommends setting aside time to share the resources and research you have found on the topic so you can have a conversation and look at the whole picture.
The alternative is to decide together with your partner how you want to research different strategies and which 
Looking for resources on picky eating? I've got you! 
Sign up for my free 5-day class to help your child try new foods or check out my book, Stories of Extreme Picky Eating.
Share the resources with your partner and take decide what feels good as next steps
How can you protect your relationship and not let the stress of a parenting challenge like picky eating bleed over into other aspects of your relationship. 
Okay, here's the really fun part. Dr. Tracy has two major tips: 
Make time for fun – get back to the good stuff, the things you did while dating or before having kids. 
Acknowledge the good – It takes

5 positive comments to outway 1 negative comment

, so as you're working together to address these tough issues remember to acknowledge the good things that are happening. (This can be true for your child too! And even YOU…which is why this is the first lesson in my

free picky eating class

.)
Interested in learning more about talking with your partner about your child's picky eating? Check out my full conversation with Dr. Tracy.