This article provides 6 tips for successfully navigating the holidays with a picky eater.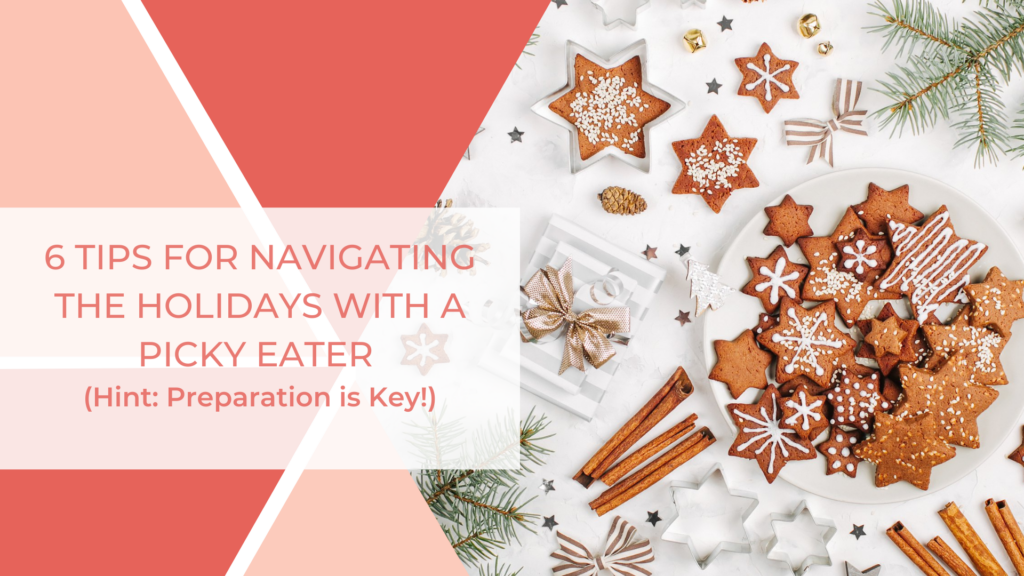 If you are a parent of a picky eater, you don't need me to tell you how challenging holiday meals can be.  
The different foods, different smells, different routines, different people, combined with a lot of pressure to have fun can be an overwhelming experience for picky eaters and can make navigating the holidays with a picky eater challenging. 
While there is no way to make these days completely stress-free, there are some strategies you can use to make the day feel more enjoyable. 
Here are 6 tips for successfully navigating holidays with a picky eater.

6 Simple Ways for Successfully Navigating the Holidays with a Picky Eater 
Start with you… 
Aim for one thing 
Hoping for everything to go perfectly on a holiday is a nice thought, but it's a lofty goal. And let's be honest, it's just not going to happen.
Instead of aiming for perfection, before the big day, identify one thing that is most important to you. Maybe you want to enjoy time with relatives you haven't seen in ages before the meal. Maybe it's having a meaningful time at the table together. Maybe you're dying to get that family picture or you just want to enjoy dessert and a glass of wine without the kids around! 
Whatever it is for you, this is the thing you will work towards. Once you have this one thing to focus on, suddenly all of the other details matter less. Let them go and enjoy the day. 
Be realistic
We're most likely to feel disappointment when reality doesn't align with our expectations. 
Be realistic about what you're hoping for and what you ask your child to do in regards to eating during the holidays. A helpful thing to remember when navigating the holidays with a picky eater, is that ta holiday is not the best time to try something new or test limits!  
You know what works for your child. Stick to that. 
It probably won't be seamless (because nothing with kids or extended family ever is!), but taking the time to set and even communicate your expectations for the day will help you and your family have a more enjoyable day.
Move onto your child….
Prepare your child for the holiday meal
So many picky eaters have anxiety about food. Knowing what to expect can help them feel better about the holiday and can make navigating the holidays with a picky eater easier, so discuss everything that you can ahead of time with your picky eater. 
What will you be eating? How will the meal be served? What time is the meal? How long will they need to sit at the table? Who will be there? What preferred food can they expect to see? 
You might need to repeat these conversations a few times.
Some families like to show pictures or introduce their child to new foods ahead of time. Others use a visual schedule. The visual representation of the day can help your child feel better prepared for the day's events, and gives them a chance to ask questions ahead of time, before becoming overwhelmed
Days and weeks before the holiday is also a good time to review any mealtime expectations and how they are the same or different from what they are used to. 
You can communicate something like "As always, remember you do not have to finish your plate or try anything you don't want to" or "Desserts will be served after dinner. You will be welcome to one no matter how much of your meal you choose to eat, just like at home."
Then get to mealtimes…. 
Include a preferred food 
Even on holidays, be sure to include at least one of your child's preferred foods in the meal.
Having a preferred food makes the meal feel safer and more inviting to your child. It takes the stress away from them (and you) because you both know there will be at least one thing served that they can feel good about eating. 
There are a few ways you can go about serving a preferred food during the holidays:
Hosting the holiday? Get your child involved in the menu. Ask them what they would like to see served at the meal. Have some extra time? Have them set the table or prepare some holiday foods.

Going to a friend's or family's house? Let them know that you'll be bringing along a dish that your child enjoys. Have your child help you prepare a dish of their choosing. This will help them feel more included and it's exciting to see their contribution among the rest of the meal.

Not sure exactly what the meal or menu will look like? Sometimes we just don't know what to expect. Still bring along your child's preferred food, even if it's just a snack. 
Think about what will add extra comfort
Meals that differ from your child's norm can create a lot of discomfort for kids with eating challenges. 
Think about anything you can do to make the meal more comfortable for your child. This might mean bringing along familiar plates or seating them next to you. These comfortable details can have a big impact on your child's ability to enjoy the holiday meal.
Prepare for unsolicited feedback
We all have them – relatives eager to offer unsolicited advice or make comments to you and your child about what they are or aren't eating. This is one of the biggest holiday challenges I hear from parents. 
It is a tricky situation and one that I don't have a clear cut solution for. 
As best as you can, plan ahead to best deal with and prevent these comments.
Is there someone your child may prefer to sit by during mealtime? Maybe you can practice scripts about how to respond or ask everyone ahead of time not to say anything.
Whatever ends up happening, know you are not alone in this struggle. 
Finally, have some fun!
Let go, and enjoy the day
Holidays may be extra special, but they're also just ONE DAY.  
Remember that however your child does on this day and what they do or do not eat at the holiday meal doesn't make or break anything. 
You might want to focus on a mantra for the day – "I know my child is doing their best. I know we are helping them as best we can. Their eating challenges will not consume this day."
Letting things go and focusing on enjoying the day and keeping your child comfortable doesn't mean that you give up aspirations for your child's eating. 
Setting aside your usual efforts and food focus for the day can allow both you and your child to enjoy the holiday and each other a little more (and isn't that what the holidays are all about?!).
Ultimately, there is no one "right" way for navigating the holidays with a picky eater. Every child has unique needs, and every situation can require different approaches. However, planning ahead and thinking through the day can set both you and your picky eater up for success (and hopefully ensure no one goes hungry!).