This article shares reasons why it's not too late to help your picky eater. If you're worried about your child's eating and are wondering if you missed your chance to help them, I want you to know that it's not too late.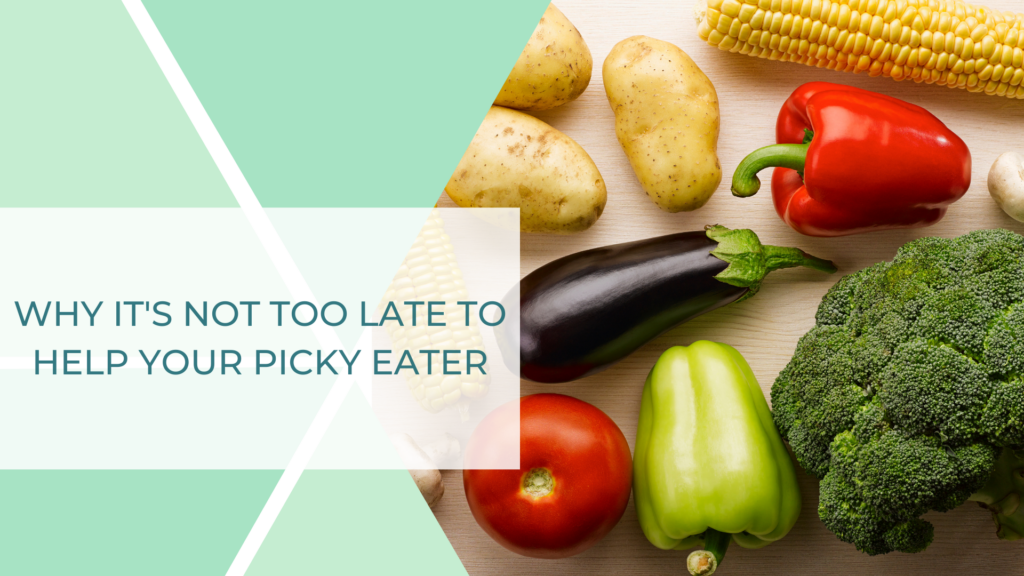 Parents often come to me wondering if it's too late to help their picky eater try new foods and expand their diet.
Maybe your child is now an adolescent who's been a picky eater for years and years. 
Maybe it seems like things are heading in the wrong direction.
It's not too late. It's never too late. 
We can always adapt and learn new things. 

Why It's Not Too Late to Help Your Picky Eater
Our bodies are always changing. Preferences are always changing. This is especially true for children.
So much goes into eating. Take taste buds and nutritional needs – two big factors in eating. These are two things that naturally undergo big changes and fluctuations as your child grows up. 
Even without natural transformations, teens and even adults can learn to eat different things and enjoy new foods.
The more you believe that change can happen and the more you share this mindset with your child, the more feasible change becomes. So shift your focus from the struggle and what can't happen to all the things that can.
How to Start When It Feels Like It's Too Late
Change is hard. Big change is hard and overwhelming. You can always start right where you are, no matter how old your child is and no matter how long they've been struggling to eat. 
I want to share this awesome, easy, effective strategy that I learned from a friend: Approach your child and say to them "I want to try something new. Can we do it together?" 
That's your first step. That's how you start!
It doesn't need to be complicated. You don't need to have everything figured out yet. You just need to make small changes one at a time alongside your child. 
How to Support Your Picky Eater When It Feels Like It's Too Late
"Can we do it together? Let's figure out how to make this work together."
Make sure you're on the same team, working alongside your child, and be open with them about the process of trying to make change happen. 
It's okay (actually, it's great) for your child to see that you're figuring things out with them and that you sometimes need to make changes to your process. This shows them that they're not alone and that they also can change because nothing is set in stone. You can be doing something for a while and then decide you need to pivot. That's okay. It's normal. And it's something they can do, too.
Acknowledge the challenge and let your child know that you can work it out together. 
Here's another script you can try to let them know you're on the same team: "I see how hard this is. It's hard for me, too. I'm right here with you."
How You Can Stay Motivated When Helping Your Child
I'm big on setting yourself up for success and part of that means adjusting your expectations. Here's a good mindset to take when starting to help your picky eater try new foods: "I'm doing this new thing. It's probably going to be hard for my child. They're probably going to push back. It's probably going to be hard for me. It might not work right away….it probably won't work right away. That doesn't mean I'm doing it wrong."
If you can go into it with the mindset that it might be challenging and that you're in it for the long game, the journey will be much easier and more successful.
It will feel hard at times. It is hard. You can do it. Try my tips for hanging in there when you're feeling exhausted and remember that so often the best things in life take hard work, intentionality, practice, and persistence.