This article discusses how to get a stubborn picky eater to eat new foods.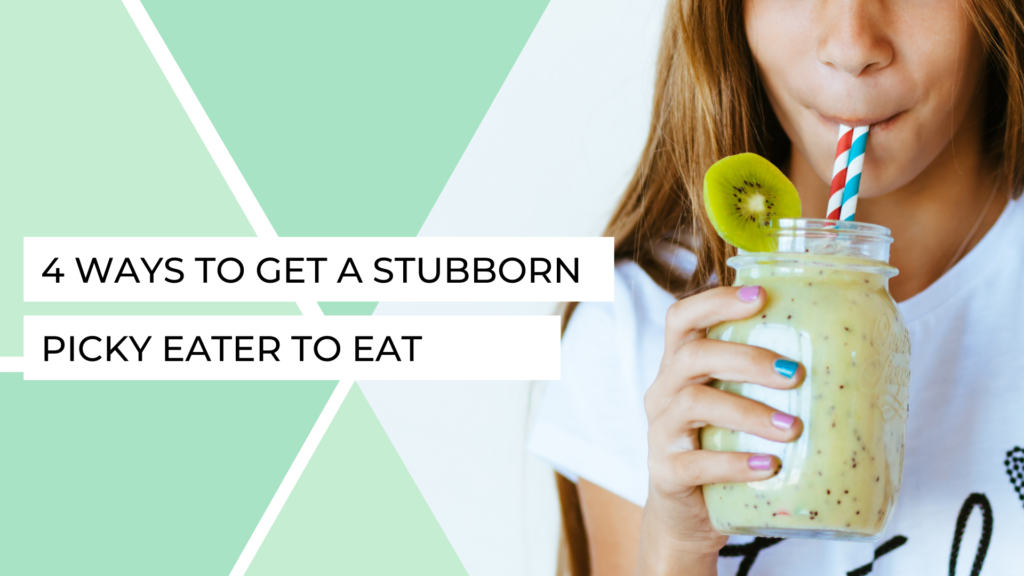 If you have a stubborn picky eater at home you aren't alone. Many of the families I see in my practice describe their child as stubborn.
Stubbornness can make picky eating struggles feel even more complicated.
Maybe power struggles ruin mealtimes. Maybe you feel like can't count on your child's preferences because they seem to change every day. Maybe it feels like a battle to get your stubborn picky eater to eat anything at all.
While stubbornness may be an added layer to the challenge of feeding a picky eater, it is not a barrier. When looking for how to get a stubborn picky eater to eat, you want to think about ways to increase their sense of control.

4 Ways to Get a Stubborn Picky Eater to Eat
Accommodate but don't cater 
Accommodating your child's preferences during mealtimes is a win-win: they exert some independence and feel in control while also gaining an investment in the final decision.
Accommodating preferences can be as simple as offering an A and B choice. For example, when meal planning, ask your child if they have a preference for one food over another. Do they prefer chicken or meatballs?
Stubborn kids do well when knowing what to expect and they also like to have a sense of control and agency. 
Accommodating their preferences doesn't just feel good. Research shows that when children are involved in making decisions about their food that they are more likely to eat.
Allow self-serving
I worked with a family who constantly faced mealtime battles. They told me stories about their son. He loved bread, yet regularly refused to eat it. One night he had a meltdown when he received a piece with butter, even though he loved butter! On another, his dad served him a plain piece and he cried because he wanted every piece of bread on the table except for the one his dad put on his plate. 
I suggested a simple fix: let the child select his piece of bread.
Bread battles solved!
Serving is a simple yet effective way to give a stubborn picky eater of any age a sense of control and involvement at mealtimes.
Get them cooking
One way to get a stubborn picky eater to eat is get them in the kitchen. Kids who cook are kids who taste. Cooking provides opportunities for tasting. Importantly, for stubborn picky eaters, it's also a way to boost their investment and interest in eating. To help your child feel more involved, include them in decisions about what they will cook. Try bringing them grocery shopping to select ingredients or having them select a recipe on their own. 
Offer simple decisions 
So many stubborn picky eaters feel out of control and are inclined to resist whatever you offer simply because the decision was out of their control. Instead of making every single decision about your child's food, try including them in simple choices. I like offering only two options. You can ask for your child's input about how they'd like something cut, where they'd like to sit, or which bowl they want to use. Giving them a say is an effective way to get a stubborn picky eater to eat new foods.
Recap
You're wondering how to get your stubborn picky eater to eat. Stubborn picky eaters do well when they feel involved and in control with food, so try to give them as much input and choice as possible.
Homework
Try incorporating the above tips into your eating routine. Feel like you want more support to help your picky eater try new foods. Grab your FREE 5-step guide with simple strategies to help your child learn to comfortably and confidently try new foods.