This article will discuss tips and tricks for traveling with your picky eater.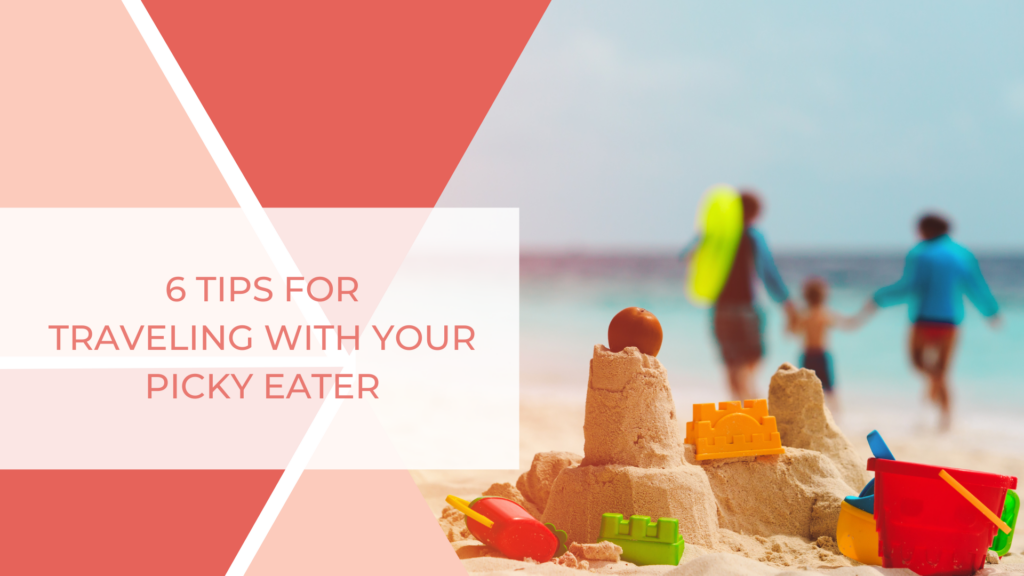 It was a really exciting day when two parents from my Eating with Ease Program showed up to group coaching sharing that they had just returned from their first ever weekend away where their picky eater actually ate (something other than what they packed with them). 
As the parent of a child who struggles to eat, I know you know how monumental this is.
Traveling Is Hard for Your Picky Eater – Why?
Bottom line: things are different when you travel. 
And picky eating is about comfort with sameness and discomfort with foods that are different. 
Foods that are known – familiar, predictable, and reliable – are safe. Foods that are unknown – different, inconsistent, and unreliable – are hard and scary. 
Being away from home means eating in restaurants, relying on a different schedule, not knowing what to expect, and being unable to prepare. 
That can be hard for anyone, and especially for a child with extreme food aversions and eating anxiety. 
Just because traveling with a picky eater is a challenge, it's not something to add to your "banned activities" list.

6 Tips for Stress-Free Traveling with Your Picky Eater
Start off on the right foot 
No matter where or how you're traveling, don't rely on airports or rest stops to have your child's preferred foods. Bring your own meals and snacks – anything from Bamba to Babybel cheese. And pack more than you think you'll need. That way, you can get to where you're going without any meltdowns or hanger emergencies.
Research, research, research
Time to Google, call the concierge, and ask the locals – basically, find out as much as you can about the food situation ahead of time. 
What restaurants are nearby? 

What food does the hotel offer? 

Where is the nearest grocery store? Do they have the "right" foods and brands?
Once you've done your due diligence, make a plan for how you'll handle each daily meal, where you can eat without needing to bring food – and what you'll do if you do need to bring something along. 
It's a lot of work, I know. Preparation leads to smoother sailing and a more successful trip for your whole gang.
Stock up 
Whether you are stuffing it all in a suitcase, ordering to your destination, or buying it when you get there, it's crucial to have your child's preferred foods readily available throughout the trip – even if they're for emergency use only. 
The reality is that you may not be able to have all of their preferred foods. Pick the most convenient, most preferred, or most nutritious (or go with one from each category). 
And don't be afraid to ask for what you need. You're not the first who will be hounding a hotel for a mini fridge. 
Stick to it
Be open to vacation surprises, but avoid introducing anything new while you're away. Keeping routines (particularly around sleep and eating) can help your picky eater feel calmer and more secure when everything else is different. 
Watch out for triggers
You know your child and the types of foods and eating environments that trigger them. Keep these in mind while you're away. 
Try to accommodate your child's needs to keep mealtimes comfortable and safe as best you can. And, if there's a meal that you know will be more challenging, let them fill up on preferred foods beforehand, or bring something special like a tablet or new toy to keep them comfortable.   
Pick your battles and enjoy 
Odds are you, there will be a few bumps in the road. It happens even with the best of planning and the best of eaters! 
And guess what? It's both normal and okay. 
Set your own expectations and try not to get bogged down by every little detail, meltdown, and string cheese-filled meal. Pick your battles and focus on what's important for you. Because at the end of the day, what your child eats for dinner doesn't matter; it's the experience of spending time together and getting away that's most important.